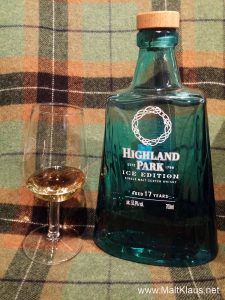 Dram data:
Distillery: Highland Park
Bottler: official bottling
Distilled: –
Bottled: 2016
Age: 17 years
Limitation: 30.000(!)
Casks: 1st fill ex-Bourbon
Alcohol: 53,9%
unchillfiltered; uncoloured
Whiskybase link
When I wrote a rant about the overhyped, way overpriced, marketing-driven Highland Park Ice last year, I never thought I'd actually get to taste the whisky. I was sure Edrington would never send me a sample after what I wrote and I'd also never shell out that kind of money for what I regard as being 10% whisky and 90% hype. However, when an opportunity presented itself recently to get a "dregs bottle" of it, I had no choice but to take it home with me to find out, whether my statement "Don't get me wrong, I'm sure it's a lovely dram", made in my rant, was in fact correct. Let's do it!

Tasting notes:
Colour: gold
The nose is full of ex-bourbon honesty. Quite fresh, I'm sure there's loads of refill oak in the mix, which accentuates the character of the distillate. Lemon zest, lemon juice, heather, very slight, fragrant peat smoke (heather bonfire?) up front. Once you cut through these initial, light aromas, you get to a slightly beefier core: A hint of flambeed vanilla pudding, smoked peaches and tangerines and a background layer of oak spices. After a few minutes in the glass, these heavier components take over, increasing the complexity.
The palate is equally light on the arrival, slightly more alcoholic and nippy than expected at 17 years. Surprisingly dry, with lemon zest, mint leaf, black pepper, light bonfire peat smoke, white peaches and slightly unripe nectarines with a pinch of vanilla and a cracked peach stone. Time to add some water! Quite a bit of water, actually. Ah, much more accessible now, but the same style! Light, slightly smoky (more bonfire smoke than phenolic smoke), on the citrus-grassy side with very light fruits (add a green apple and a pear to those mentioned before). The refill wood definitely kept the distillery character intact, even after 17 years. Maybe that's what the "ice" association is all about? After a LOT of time in the glass, the palate also seems to settle down a bit, losing the edge and gaining a slight sweetness and more fruits, but we're talking upwards of an hour here! The medium-long finish is slightly nippy upon swallowing (even diluted), with the now familiar light, fragrant peat smoke, mint leaf, pepper, lemon zest, green fruits and slight oak notes towards the end.
Verdict:
Well, is it a "lovely dram", as I thought it might be? Well, it is. It's perfectly good, light, spirit-driven whisky with the alcoholic oomph, a bit of mint and other components, which one could interpret as "icy" with a vivid imagination. It seems I was wrong about the refill wood – apparently it's all 1st fill! (I write all my reviews reading as little information as possible beforehand). In the end, a nice, honest ex-bourbon Highland Park. Is it worth the 350€ (and more) I saw it sell for in shops when it came out? Of course not. Not even the ca. 250€ it seems to sell for these days now that the initial hype has cooled down (excuse the pun…). The posh (and kind of unpractical) packaging aside, it would be a 60-70€ whisky in my book, certainly less than the (also very expensive these days, but worthwhile) 18-year-old standard bottling. Did you buy a bottle? Did you taste it? What did you think of it? Let me know in the comments section below!
Score: 83/100
(Nose: 85 Palate: 82 Finish: 82)
Dregs bottle kindly provided for #heelslaying by Keith's dregs. Cheers, mate!