Tamnavulin? This Speyside distillery is probably unknown to all but the most devoted whisky drinkers. It's not a malt you will find in supermarkets, most of the output is used in Blended Whisky production – probably mostly by owners Whyte & Mackay. It's not a desirable whisky for collectors and not too often featured by independent bottlers.
So why did I pick up a bottle at auction recently? Well, it was cheap-ish and a bottle that had been sitting around for a couple of years judging from the label and the condition of the tin with a bit of rust. I would guess it was bottled around 2005 or not too long after that – the year when the 12-year-old expression was officially launched. Basically this malt piqued my curiosity as to what kind of quality of spirit went into bottle roughly 10-15 years ago before the current explosion in whisky production. Well, this and the fact that I've actually never tried a Tamnavulin before… I needed to change that!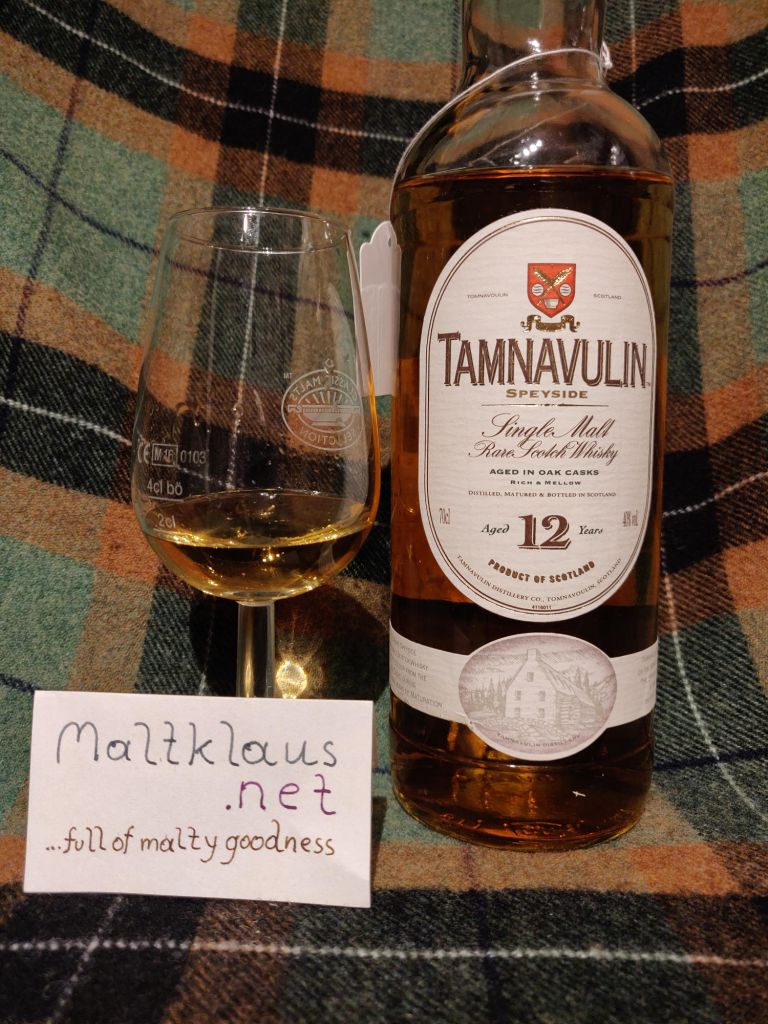 Dram data:
Distillery: Tamnavulin
Bottler: official bottling
Distilled: –
Bottled: ca. 2005
Age: 12
Limitation: –
Cask: oak
Alcohol: 40%
colouring added / chill filtered
Whiskybase link
Colour
Slightly reddish Gold – doesn't look too terribly fake
Nose
A light Speyside malt. We could leave it at that. Okay, right, that wouldn't be too much of a review, now would it? Light on the nose with a slight grassiness (not in a bad way), kiwi, mango, watermelon, raisins, honey, a floral note (no FWP!), sherbet orange and a hint of cask spices as well as dusty oak. This is actually quite lovely. Not ultra-complex but far from bland!
Score: 80/100
Taste
Quite light and gentle on the arrival – you can tell it's 40% but it's not too awfully watered down and quite quaffable with a medium body and quite a bit of oiliness. I can't make out too many individual notes – it's a fruity mixture of fruits (mango, watermelon, apricots, raisins) some honey, oak and a spicy note (caramelized ginger?). More than decent.
Score: 79/100
Finish
Quite oily and fruity upon swallowing, a continuation of the palate. Light fruits (mango, apricots, raisins) with caramelized ginger, honey and a developing spicy note and some oak towards the medium-long finish.
Score: 79/100
Verdict
Consider me pleasantly surprised! I expected a half-decent Speyside dram and found this particular example to be slightly more than that! Quite on the fruity side, nicely quaffable and not bland at all. Definitely more interesting than most modern 40% Supermarket-Speysiders in this age bracket – and that includes big-ticket names starting with Glen-something! It just goes to show that you can find decent daily drams for drinking in the bottom price bracket of whisky auctions – whiskies that don't get the attention of collectors and flippers alike. Now, I keep wondering how recently bottled versions of this whisky taste – but I don't really feel like shelling out roughly 40€ to find out so I guess I never will…
Overall Score: 79/100
Check out the archive of all Tamnavulin whiskies I've tasted so far!