"Hey mate, would you like to try some Bimber?" "Sorry, what?" "Yeah, Bimber, a new distillery from London, I've got a sample pack if you want one." "Errr… alright, aye, I'll give it a go."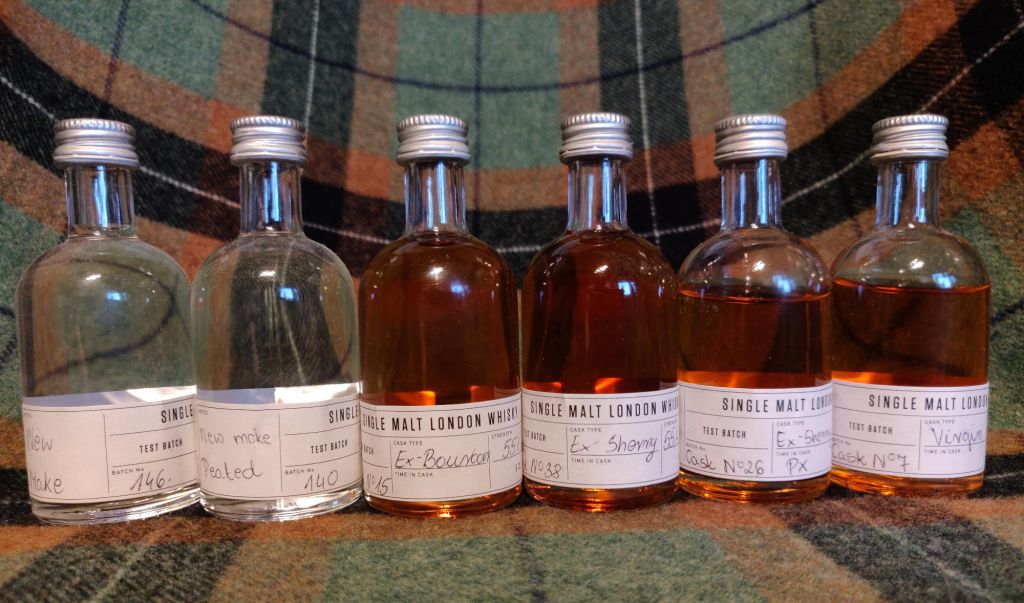 That scene, which took place earlier this year at a whisky festival, was probably the strangest way to come across a new distillery. With new distilleries popping up seemingly every week I've given up trying to keep track of all the different projects going on around the world right now.
So what's the deal with Bimber? It's a London-based distillery and it's been distilling single malt from floor-malted barley in their direct fired stills since 2016, according to their website. So I guess their first casks are now already legally whisky. I'll refer you to their website if you want to know more about the distillery itself – I'd only be paraphrasing their website anyway since that's about all I know. I'll let the spirit do the talking in this article.
The sample pack contained six bottles – two different new-make distillates and four cask samples of unknown age. Judging by the low cask numbers (the highest is 38) I'd say we're looking at at least two-year old spirit. How does it nose and taste? I'm glad you asked – let's dive right in! (No scores given as they are "maturation in progress".)
Bimber New Make – unpeated. Batch 146, 60% ABV
Rather clean on the nose – quite estery and fruity reminding me of a wild bramble distillate. The same applies to taste – quite oily and fruity while the finish has a somewhat bitter note. I guess they're fermenting for quite a long time. Checking their website: They claim seven days. Yep, that's going to give you a fruity character you won't get when you try to get away with the bare minimum fermentation time. Kudos for that.
This is right in line with the current trend – creating a rather clean new make makes it easier to bottle product at a young age – but it can easily be overtaken by active casks. We'll see later on how it stands up to those!
Bimber New Make – peated. Batch 140, 60% ABV
No idea about the ppm level of the malt – I'll go with medium peated. More than Ardmore, less than the Islay distilleries. The clean peat smoke almost completely masks the fruitiness on the nose – this is exceptionally clean for a peated new make, just light smoke, a hint of esters and sweetness. After a while a grassiness creeps in. On the palate, the esters win on the arrival before the soft peat smoke arrives. Quite chewy, thick and sweet, the same goes for the finish. I don't think there's a peated sample amongst the upcoming cask expression to track how this performs in wood, though.
Bimber Cask No. 15 – Ex-Bourbon, 55% ABV
Moving on to the cask-matured samples now. I guess starting with the Ex-Bourbon is the right way to do it – we'll see! Ah yes, very active wood meets light spirit! Loads of vanilla, some caramel and charred oak with an alcoholic note on top which is perfectly normal given the age. The palate is quite creamy and chewy with loads of vanilla, toffee, caramel and charred oak followed by a slightly bitter dryness. The oak is also quite noticeable on the long, dry finish. I keep noticing a recurring theme with many new distilleries – light new make and very active wood to quickly get a lot of flavour. In this case not a lot of spirit character remains, this is already taken over by the cask. Fine if you want to release product quickly but in my opinion not the best solution for long-term aging. But then again that's just my opinion…
Bimber Cask No. 7 – Virgin Oak, 57,1% ABV
Virgin oak. American oak, I presume. These are usually even more extreme in effect than fresh ex-bourbon so let's see… Now this is strange. I feared this would be much more cask-driven than the first sample, but the opposite is true. This is a much more refined, elegant dram. The esters from the new make still carry over nicely, integrated with some vanilla, coconut, white chocolate, cherry and shortbread notes. On the palate, we've got a creamy, oily mixture of esters, vanilla, a hint of oak, Schwarzwälder Kirsch cake and sweet herbal liqueur. The finish is dry, yet oily with a noticeable but not overboarding amount of oak, vanilla esters and sweet herbal liqueur. I feared for the worst but am very pleasantly surprised – the cask is active but much more restrained than the ex-bourbon sample and integrates well with the spirit. I wouldn't age this cask for 10 or 20 years but it will make for a very pleasant early release. Really rather nice.
Bimber Cask No. 38 – Ex-Sherry, 55,4% ABV
Ah yes, Ex-Sherry. No mention of the type of Sherry or size of cask. I guess I'll nose, taste and see for myself! Is that a whiff of sulphur on the nose? I'm not very sensible to sulphur but there's something… The new make spirit is still quite noticeable here. It's a higher cask number than the previous samples, so it's younger and if they used a Butt then the maturation rate is also slower due to the bigger ratio of liquid to wood. Dry spices and a couple of sultanas to provide sweetness. European oak, perhaps? On the palate, the alcohol and new make are quite noticeable – but there's a pronounced sweetness (plum and raisin puree) with spices (allspice, cloves) in the background. The finish is quite dry with spices, slight oak and a pronounced dark fruit sweetness. Very difficult to judge. This is just not ready yet – the components are there, it's on the right track but currently in a rather immature, transitional state. Could turn into a rather nice dram – it just needs more time so take these notes with a grain of salt!
Bimber Cask No. 26 – Ex-Sherry (PX), 57,1% ABV
PX Sherry. The sweet stuff. Again no mention of cask size. Let's see how this works! Quite shy on the nose, actually. The new make still translates nicely with added sweet fruits in the background (dates, figs, plums, raisins). Spices? Maybe the slightest hint. Oak? Nah. Quite a bit more going on on the palate – there's the expected PX sweetness (roughly the same dark fruits as on the nose) masking the new make's esters. The finish is really gentle and sweet (again, dark fruits) before the new make shines through again paired with a hint of oak and spices. This is coming along nicely. Not in as weird a state as the previous sherry cask but this also needs time. Which is not surprising me in the slightest and is quite normal at this stage of maturation.
Conclusions
So, what do I think of Bimber distillery, which I had never heard of until earlier this year, after tasting six dramples? Well, I'm pleasantly surprised. There are many distilleries outside of Scotland making all kinds of weird things but these folks seem to "just" want to make good whisky without claiming to be reinventing the wheel. Their new make is solid and designed the way it's "en vogue" these days – a very clean spirit in order to have a product to sell at a young age. This is both good – and a danger at the same time. With a fruity, neutral style without distinctive edges there's not much distinction from many others on a pure spirit level – it's just as "nice." There are many distilleries starting up producing "nice" products – in an increasingly competitive marketplace where marketing is the differentiator.
The four cask samples are, of course, not finished products, they only offer a mere glimpse of where the journey is headed. I would never have guessed it but for me the Virgin Oak was actually the most balanced and most "ready" of all the samples. The ex-bourbon is on the brink of already having too much cask influence for my taste and the two sherry samples are promising but (unsurprisingly) need more time.
So, yeah, consider me pleasantly surprised – I just hope they're also filling some refill bourbon for long-term maturation!
Have you heard of Bimber distillery before, tried their spirit or even visited the distillery in London? Let me know your thoughts in the comments section below!