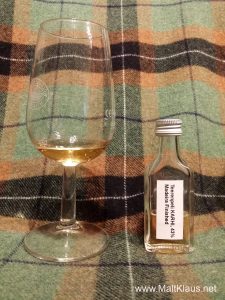 Dram data:
Distillery: Teerenpeli
Bottler: Official bottling
Distilled: –
Bottled: 2015
Age: 5
Limitation: 1882 bottles
Casks: ex-bourbon with Madeira finish
Alcohol: 43%
unchillfiltered and uncoloured
Whiskybase link
Finnish whisky named after a farming tool. Finished in Madeira casks after initial maturation of 5-7 years in ex-bourbon casks? Let's taste it!
Tasting notes:
Colour: amber-ish gold
The nose promises a mellow, gentle dram upon first nosing – a bit shy, yet not without character. Malty sweetness paired with vanilla up front, spearmint, oranges and apricots and juicy sultana raisins. The profile is not too sweet, however, it is more fruity than sweet and it is overshadowed by an aroma I can't quite put my finger on. Not really metallic but also not really in the grassy direction – maybe just something picked up from the Madeira casks? Definitely interesting and pleasant, but not earth-shattering so far. Let's see if the palate provides us with further hints:  Continue reading "24 drams till Christmas 2016 #15: Teerenpeli Karhi NAS"