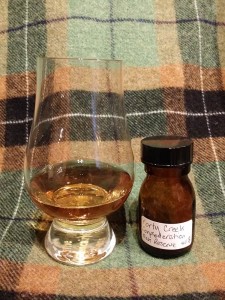 Dram data:
Distillery: Forty Creek
Bottler: original bottling
Distilled: –
Bottled: 2010 (Lot 1867-D)
Age: NAS
Limitation: –
Casks: Canadian Oak Finish
Alcohol: 40%
most likely chill filtered and coloured
Whiskybase link
This is a special tasting today in honor of whisky blogger Johanne McInnis' birthday today. She gave a bottle of this Canadian whisky to my friend Jo Lawson, who in turn gave me a sample so Jo and I decided to do a joint tasting blog post on it.
Ladies first!
Tasting notes Jo Lawson:
Colour: Dark honey
Nose: initial maple syrup sweetness, raisins, buttered popcorn with some underlying spices, develops into banana, vanilla and caramel.
Palate: Rich, soft and rounded, sweet oranges, white pepper, and oak, then marzipan, dates, figs and toffee.
Finish: Long, soft, slightly dry with some light spices.
Overall a rich, well balanced, complex whisky, that needs to be slowly sipped and savoured.
Tasting notes Klaus Doblmann:
Colour: amber
The nose starts with just the faintest whiff of acetone – a wee bit bourbon'ish. Quite light, but no wonder at 40% ABV. Sweet oak notes, palm syrup, vanilla-toffee pudding, milk chocolate, chocolate chip cookies, banana split, caramelised orange peel and half a cinnamon stick. Continue reading "Tasting: Forty Creek Confederation Oak Reserve – with guest writer Jo Lawson"