Rum casks are a thing now in the whisky world. I've tried a fair number so far and have found they can be a bit hit or miss – depending on the spirit and the casks used. One distillery where this has worked pretty well in the past is Springbank – they have easy access to rum casks since their sister company Cadenhead's also bottles a few casks of rum every year. Now, this Kilchoman was bottled back in 2016 for the 60th anniversary of La Maison Du Whisky. In case you're not familiar with rum, Caroni is the Port Ellen (or Brora) of the Rum world – a lost distillery.
This dregs bottle was given to me by malt mate Keith and was originally entered into the 2016 Malt Maniacs Awards. I recently rediscovered it in my cellar and asked my followers on Instagram and Twitter whether they would like to read tasting notes on it. The contents still seem to be alive and kicking (though there might have been some oxidation at this point), so let's go for it!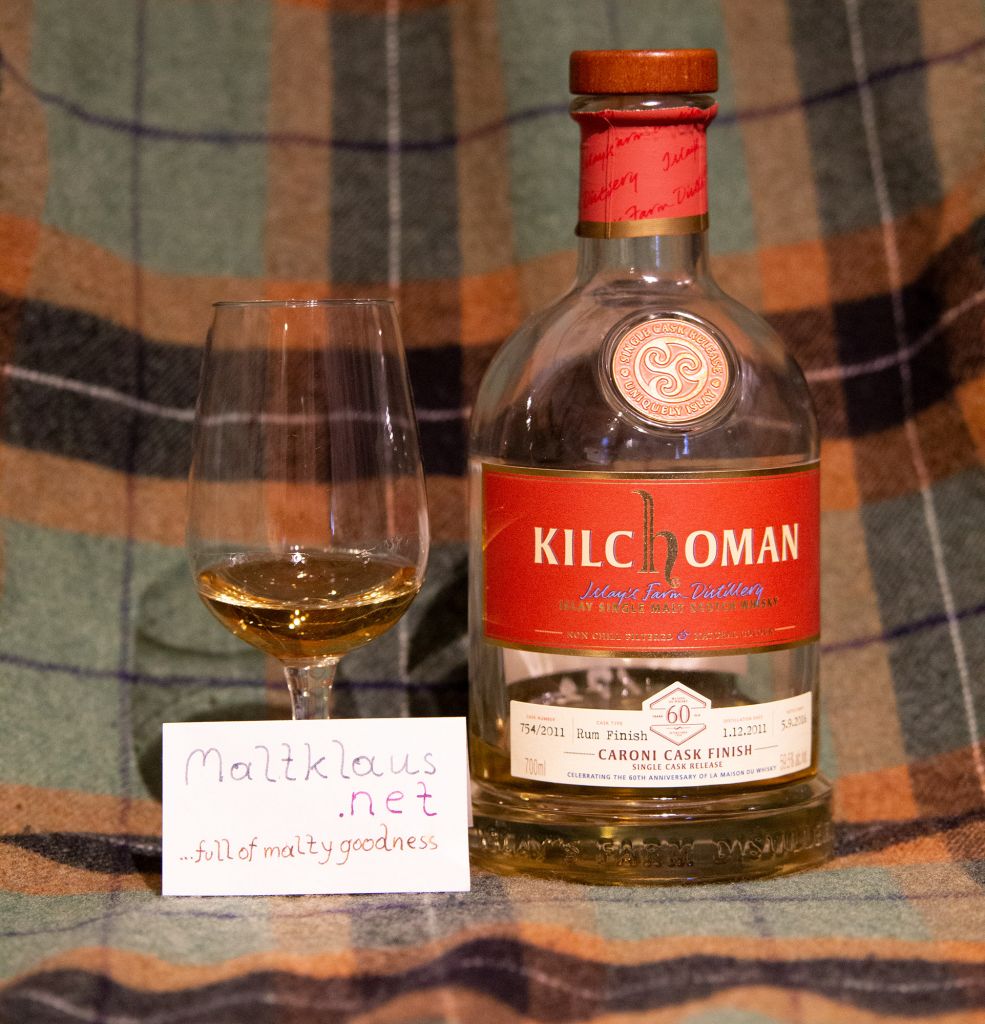 Dram data:
Distillery: Kilchoman
Bottler: official bottling for LMDW
Distilled: 01.12.2011
Bottled: 05.09.2016
Age: 4 years
Limitation: 264 bottles
Cask: Caroni cask finish
Alcohol: 59,5%
uncoloured / not chill filtered
Whiskybase link
Colour
Slightly dark straw
Nose
As expected, there's quite a bit of alcohol up front, mixed with the typical, slightly iodine Islay peat smoke notes and, yes, rum. No, I couldn't tell it's Caroni but it's a beefy, meaty, oily rum note. We've also got notes of malted barley, fresh lemons, candyfloss and molasses. Actually this reminds me more of the 100% Kilchoman releases than "regular" Kilchoman distillate. Who knows… Quite a nice start, neither the spirit nor the rum cask influence are overpowering at this point.
Score: 86/100
Taste
Boom. Pure, raw young Islay whisky tour de force as you expect it! Quite spirit driven, which is how I like young Islay whiskies – this is not overpowered by the cask at all! The rum influence is very subtle – the dirty, oily Caroni distillate complements the peat smoke notes and forms an impression that works quite well. So, what else is there to discover? We've go lemon, malted barley, a hint of demerara sugar, ginger, somewhat stale cracked pepper and a complementing mineral note. Really rather enjoyable.
Score: 85/100
Finish
The long finish is actually rather gentle giving the high ABV – oily, with notes of barley, oily, dirty peat smoke, and a slight sweetness, all of which linger for a long time.
Score: 86/100
Verdict
Oh well, this experiment worked rather well now, didn't it? The Caroni cask finish added a subtle layer of oily, dirty depth which seems to complement the young, spirit-driven, heavily peated whisky rather well. Very enjoyable indeed! Sadly it's long sold out and probably only available at auction now…
Overall Score: 86/100
Check out the archive of all Kilchoman whiskies I've tasted so far!