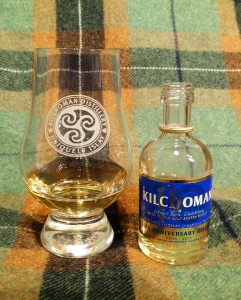 Dram data:
Distillery: Kilchoman
Bottler: Original Bottling
Distilled: Multi-Vintage 2005-2010
Bottled: 2015
Age: NAS (3 years according to the youngest whisky)
Limitation: 3000 bottles
Casks: Bourbon + Sherry
Alcohol: 58,2%
unchillfiltered; uncoloured
Whiskybase link
Tasting notes:
Colour: light gold
The nose screams "Islay", just like most commercial malt bottlings from Kilchoman. An initial blast of peat with notes of iodine, coal fire smoke, tar and smoked seafood. The smoke is the predominant note at first with the alcohol making a strong appearance too – no wonder at 58,2% ABV. But surely this can't be all? Let's investigate further. There's vanilla from the bourbon casks, the citrus notes from the distillate and beneath it all there's a darker layer of caramel, cocoa, dark milk chocolate and ground coffee. I'm not getting any fruits. Multi-layered but not overwhelmingly so. The palate is dominated by smoke and alcohol as well as a green note on the first sip, but let's add a bit of water first, it seems like it could use a splash. Yep, quite a strange palate, actually, with slightly bitter, green notes of green barley and hay. Also perfume, talcum, oily cocoa powder, dark chocolate, vanilla pudding and malt sweetness to go along with the brine, coal- and peat smoke. The long, creamy finish has the same green bitter notes on top of vanilla sweetness and, of course, loads of peat smoke.
Verdict:
Kilchoman turns 10 years old this year and to celebrate the occasion they put out a release containing malts of different vintages from the very first barrel ever filled (1/2005 – not the whole cask was used, though!) to the year 2012 (they can't put malt younger than 3 years old into the mix or they wouldn't be able to call it whisky). 3000 bottles were produced, only available at the distillery, and I expect them to last for a few months at least.
For the whisky itself, well, it is quite good, but not outstanding. It's probably the very young spirit in the mix that makes it lack a bit in depth and consistency and incorporates the younger, "green" notes I noticed. Still, a unique, one-off multi-vintage birthday present.
Score: 83/100
(Nose: 87 Palate: 82 Finish: 84)