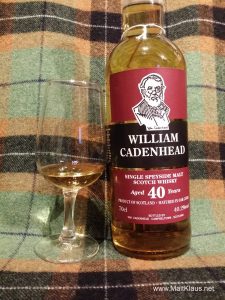 Dram data:
Distillery: undisclosed (see below…)
Bottler: Cadenhead's
Distilled: 1970s
Bottled: 09.12.2015
Age: 40 (stated; actually 43yo*)
Limitation: –
Casks: ex-bourbon (my impression)
Alcohol: 40,2%
Unchillfiltered; uncoloured
Whiskybase link
Unless I've lost the ability to count, this is whisky review #200 – time for a small celebration! How about… oh, a 40yo "undisclosed" Single Speyside malt by William Cadenhead's? Only they could be so cool as to print the completely unrelated letter combination "Glenfarclas" just above the bottling number. No, I'm sure these letters don't mean anything to anybody… I love you guys up there in Campbeltown!
Tasting notes:
Colour: honey
40,2% ABV – this better not be weak on the nose! Ah…. no! Oh! Ah! Properly aged whisky from a refill ex-bourbon cask, that's a style I love! Golden honey with a bit of beeswax, majestic oak jam cupboard (just the right amount of oak) with a leather jacket and garden herbs for drying hanging from a hook on the side, sweet summer sunset in an orchard captured in a glass, tropical fruits (dried mangos and papayas ), condensed orange juice, slightly vanilla-flavoured Virginia pipe tobacco (non-vulgar vanilla!), ah, what a lovely, dense yet still elegant and fragrant mixture. Just the dram to pour those "age doesn't matter" folks, that'll teach 'em!  Continue reading "Tasting: William Cadenhead 40yo Single Speyside Malt (Review #200)"