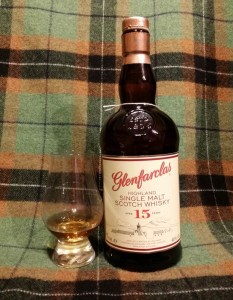 Dram data:
Distillery: Glenfarclas
Bottler: Original bottling
Distilled: –
Bottled: 2013 – L04 06 13
Age: 15 years
Limitation: –
Casks: –
Alcohol: 46%
unchillfiltered; natural colour
Whiskybase link
Tasting notes:
Colour: red-gold
The nose starts off as a mixture of oloroso sherry, a strong note of citrus peel and -juice and a whiff of smoke (no more than 5 ppm) in the background. Burnt caramel and cocoa / dark chocolate (a result of the direct-fired stills?) and a subdued puree of dark, dried fruits (figs, dates, plums) with a few brazil nuts thrown into the mix. The overall impression is quite light though – not only because of the citrus notes). The palate is very similar: Light, sweet sherry meets citrus peel, quite a bit of alcohol, black pepper, heather, cocoa and medium dark chocolate, molasses, roasted toffee, a hint of peat smoked christmas cake spices and a nondescript diluted dark fruit puree sweetness. Quite creamy and a bit oily too – covering the entire mouth. At the same time it is a bit restless, like a hyperactive teenager meandering between points of interest. The medium long finish is a bit alcoholic upon swallowing and surprisingly dry with orange peel, sweet roasted toffee, hay and a yeasty note appearing towards the end .
Verdict:
This is by no means the youngest in the standard Glenfarclas range but it seems like their best-selling dram – at least it's the one you encounter most, even outside of specialist shops. As such it feels a bit like a "standard expression" – quite good, easy-sipping, rewarding and quite quaffable, but there's potential for improvement. It doesn't taste and nose like a 15-year-old whisky (more like a 10-year-old) and I guess there's quite a bit of refill wood in the mixture. There's the heavily sherried style on the one hand, but it feels a bit diluted and there are lots of younger, lighter, fresher notes as well which make it a tad restless. Nonetheless, it is presented at 46% ABV, un-chill-filtered, and at natural colour, which is not the norm and commendable.
Score: 81/100
(Nose: 82 Palate: 82 Finish: 81)