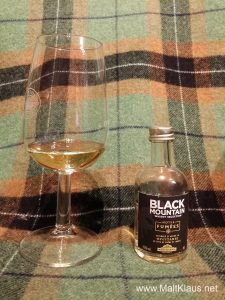 Dram data:
Distillery: – (Blend)
Bottler: Black Mountain Compagnie
Distilled: –
Bottled: 2016
Age: NAS (5-6yo with ca. 2 years additional maturation)
Limitation: 3000 bottles
Casks: French spirits cask finish
Alcohol: 45%
probably chill filtered, no colouring info
Whiskybase link
Finally, the first whisky review of 2017 after what feels like an eternity of "bad nose days". Why not start with a surprise package from France, from the guys behind the "Black mountain compagnie". They already released two different blended whiskies, one of which I've reviewed here. This latest release is the same basic blend recipe, but with an added 20% of "two different smoky whiskies" followed by a marrying stage – not in Scotland, but in France. All in all about 2 years of maturation were carried out in France, so despite having Scottish ingredients, it cannot be called Scotch. Let's take a look!
Tasting notes:
Colour: straw
The nose features an undeniable smoky note right upon the first contact. Delicate smoke, almost like burning flower petals. Light and floral with delicate vanilla notes and early spring flowers, oranges, grapes, pickled ginger, green apples, some coconut and fudge. Not an in-your-face whisky but thanks to the 45% ABV with a bit more oomph than your standard blends and more elegant. Undeniably the same base (house) style as the BM 1, but the added smoky component does add an additional layer. Continue reading "Tasting: Black Mountain Whisky Selection Notes Fumées Blend"