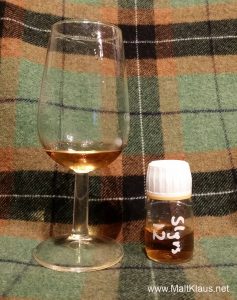 Dram data:
Distillery: Slyrs
Bottler: official bottling
Distilled: 2003*
Bottled: 2015*
Age: 12 years
Limitation: 2000 bottles
Casks: fresh american oak
Alcohol: 43%
unchillfiltered(?) and uncoloured
Whiskybase link
*no info on the sample bottle, it could either be the first or second batch
After tasting a less than stellar 3 yo whisky from the Bavarian distillery, I'm putting high hopes in this very expensive and collectable 12-year-old dram. Let's check it out!
Tasting notes:
Colour: amber
The nose starts out extremely rich! Different league than the aforementioned 3 yo bottling! Not your usual whisky, though, a distinctive style you could not mistake for a Scottish whisky (which is good, because why should you make whisky that tastes like Scotch in Bavaria?). Rich oak! I couldn't find any official info on it, but I'd be surprised if it was anything but virgin american white oak casks. This could almost be a well-aged high-malt mash bill, potstill bourbon! Charred oak, vanilla, tannins, ginger, cinnamon and cloves up front, with caramel and toffee sweetness, Werther's Original, Ricola cough lozenges and a whiff of a new Bavarian cowboy boot (Oh come on, you've made that one up!). Very oak-driven, but not too oaky. At the same time there's also a lightness and freshness on top – you can tell this is not old whisky, but a younger distillate from fresh casks. Let's check the palate! Continue reading "24 drams till christmas 2016 #3: Slyrs 12 yo"