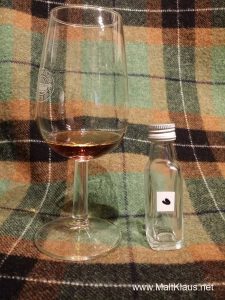 Dram data:
Distillery: Caperdonich
Bottler: Cadenhead
Distilled: 1977
Bottled: 2017
Age: 39 yo
Limitation: 462 bottles
Casks: Butt
Alcohol: 50,4%
unchillfiltered / uncoloured
Whiskybase link
This is the last one in the trilogy of whiskies distilled in the 1970s at now "lost distilleries", bottled for the 175th anniversary of the independent bottler Cadenhead's. Unlike the Convalmore, I've got a slightly bigger sample, so let's give it a thorough taste!

Tasting notes:
Colour: mahogany
This is the most heavily sherried whisky of this release! The nose is immediately filled with deep, dark, bold aromas. Oak floorboard polished with wax (but not too oaky!), liquorice, cherry and plum syrup, herbal Swiss cough drops rubbed in allspice and forgotten for a few years in a rusty tin box. In fact, can I please call this a fruity cough syrup for grown ups? In a good way, of course! Not much sweetness going on, which is good, but the cask is definitely strong and not much distillery character remains – which is to be expected from a sherry monster of such a calibre. Still a very good balance between oak and fruit, this has not yet gone overboard! Let's check the palate! Boom! It's alive and kicking! Intense and mouth-coating with a nice initial kick. Chewy, yet on the dry side, with the herbal notes and spices (cough lozenges and allspice) dominating on the arrival, before liquorice and cherry syrup kick in (sugar reduced – it's more about the fruit than the sweetness). There's a thick, dense base layer that's hard to pinpoint – burnt toffee and perhaps some chocolat-ey coffee beans. Monsooned Malabar, maybe? I know that's not a lot of different things I'm picking up – it's a very thick, dense mixture that's so much more than the sum of its parts. A good antidote against the en-vogue sugar-ridden sweet sherried drams. Again, not much distillery character remains, but the spirit has fought a fair battle against the Sherry butt! The long finish is, once again, quite bold and big upon swallowing, with a mixture of herbs and, again, cherry juice, before it reveals more notes of coffee, burnt toffee and oak towards the end, where it gets drier.
Verdict: The boldest of the bunch, a big, heavy-hitting, sherried whisky with a good balance and nowhere near too oaky. Just don't expect much distillery character to remain from the spirit distilled 39 years ago. An after-dinner digestive dram – or one to serve as the best-tasting cold-preventing medicine in the cold months of winter!
Score: 92/100

(Nose: 92 Palate: 92 Finish: 91)