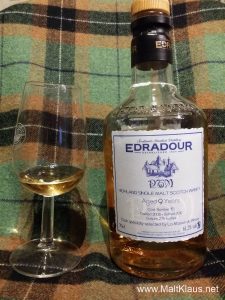 Dram data:
Distillery: Edradour
Bottler: official bottling for LMDW
Distilled: 2003
Bottled: 2012
Age: 9
Limitation: 247
Casks: refill ex-Caol Ila hogshead
Alcohol: 61,2%
unchillfiltered and uncoloured
Whiskybase link
PTM? What the heck is PTM? Yet another three-letter abbreviation. Well, it stands for "peated through maturation". Fill your Edradour new make into a hoggie which was previously used to mature heavily peated Caol Ila whisky – and the idea is that some of the peat smoke carries over. Let's see whether the theory works!
Tasting notes:
Colour: gold
Ah yes, there's definitely peat smoke on the nose! Not on the same scale as heavily peated Islay whiskies, but it's there. Very similar to the inaugural Wolfburn bottling, where they applied the same technique. Surprisingly mellow for over 60% alcohol! We've got light peat smoke, vanilla, coconut, strawberry marshmallows, Kiwi, lime and heather. Light, but in no way boring. Let's try the palate:  Continue reading "24 drams till Christmas 2016 #19: Edradour 2003 9 yo PTM"