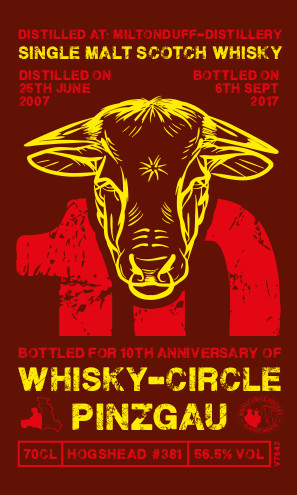 Dram data:
Distillery: Miltonduff
Bottler: Whisky Circle Pinzgau
Distilled: 25.06.2007
Bottled: 06.09.2017
Age: 10 yo
Limitation: –
Casks: Hogshead #381
Alcohol: 56,5%
uncoloured / unchillfiltered
Oh boy, I've really let things slide a bit, it's been a while since the last review. Let's make it a special one then! Malt mate Rainer sent over a sample of a 10yo Miltonduff – bottled for the 10th anniversary of the Whisky Circle Pinzgau. Let's dive in without further ado!

Tasting notes:
Colour: ripe straw
The nose … oh, that's a strange one – in a good way. An olfactory puzzle. Initially, there's a waft of alcohol, not surprising at 10 years of age, followed by "green" notes. Errr… caramelised cucumber? Is there even such a thing? Cucumber water with a pinch of vanilla, freshly cut herbs, green apples, rhubarb and apple-rhubarb pie. Told you it's a strange one! Adding a few drops of water releases a waft of coconut with a few fruits trailing behind – slightly sour grapes and gooseberries! Let's check the palate!
Continue reading "Tasting: Miltonduff 10yo by Whisky Circle Pinzgau"