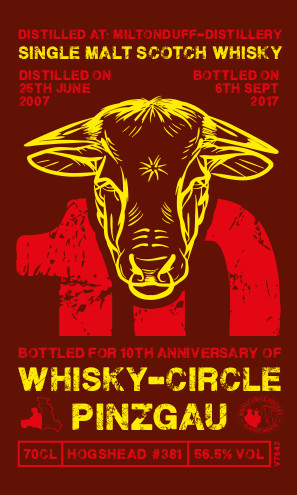 Dram data:
Distillery: Miltonduff
Bottler: Whisky Circle Pinzgau
Distilled: 25.06.2007
Bottled: 06.09.2017
Age: 10 yo
Limitation: –
Casks: Hogshead #381
Alcohol: 56,5%
uncoloured / unchillfiltered
Oh boy, I've really let things slide a bit, it's been a while since the last review. Let's make it a special one then! Malt mate Rainer sent over a sample of a 10yo Miltonduff – bottled for the 10th anniversary of the Whisky Circle Pinzgau. Let's dive in without further ado!

Tasting notes:
Colour: ripe straw
The nose … oh, that's a strange one – in a good way. An olfactory puzzle. Initially, there's a waft of alcohol, not surprising at 10 years of age, followed by "green" notes. Errr… caramelised cucumber? Is there even such a thing? Cucumber water with a pinch of vanilla, freshly cut herbs, green apples, rhubarb and apple-rhubarb pie. Told you it's a strange one! Adding a few drops of water releases a waft of coconut with a few fruits trailing behind – slightly sour grapes and gooseberries! Let's check the palate!
Spicy on the arrival – cracked pepper up front before the alcohol kicks in. Oily, mouth-coating and dry at the same time with notes resembling the nose – alcoholic cucumber water and apple/rhubarb pie with a pinch of vanilla. With a dash of water the pepper and alcohol are a bit restrained (but not much) and the whisky opens up, revealing more of the light continental fruits – a sneaky pear, gooseberries, grapes (with seeds!) and, oh, who put the lime in the coconut? (sorry…) The medium-long finish is peppery upon swallowing, slightly sweet yet mainly dry with vanilla, grapes, apples and, yes, alcoholic cucumber water.
Score: 83/100
Verdict: Ah yes, a "funny" dram – and an honest one! It doesn't try to mask anything – it is a 10-year-old powerhouse from a refill cask, so it's still very lively, fresh and gives you quite a kick. In a sentence, I'd say "alcoholic cucumber water eaten with a slice of apple and rhubarb pie". Because you should have cake when you celebrate your 10th anniversary as a whisky club! Not as impressive as their previous bottlings, but in this day and age where it's really difficult to get good casks, a more than solid choice!
(Nose: 84 Palate: 83 Finish: 83)
Click here to read about all the Miltonduff whiskies I've reviewed so far!
Click here to read all of my tasting notes on the Whisky Circle Pinzgau bottlings
Samples courtesy of malt mate Rainer, cheers!