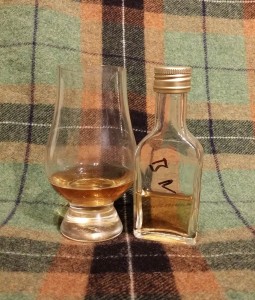 Dram data:
Distillery: Ben Nevis
Bottler: Carn Mor, bottled for Whisky Circle Pinzgau
Distilled: 23.11.1995
Bottled: 11.08.2013
Age: 17 years
Limitation: 192 bottles
Casks: Sherry Hogshead #965
Alcohol: 51,8%
unchillfiltered; natural colour
Whiskybase link
Tasting notes:
Colour: wood honey
On the first sniff the nose immediately reminds me of the smell in the local shoemaker's shop when I was a kid – fresh leather and sweet, dark candy as treats for the kids. A pleasant mixture of leather and old carpeted floors stained with ripe old Oloroso sherry, paired with a lush, dark fruit puree background sweetness, blackcurrant, over-ripe strawberries, oranges, dark chocolate with hot peppers and ginger bits. A dash of water brings out more oranges – sweet, juicy oranges with orange oil. The palate is rich on the sweet dark fruit puree as well, accompanied by a rich malty note. Quite oily and mouth-coating. Dark chocolate with orange and ginger bits, slightly burnt toffee, There's also a mineral note, but no sulphur. With water: More oranges and a tad more "lively" and fresh and a bit drier. The long finish starts with an orange oil/ginger note upon swallowing, a noticeable malty/fruity sweetness (not overdone) with a return to the shoemaker's store towards the end.
Verdict:
The guys and gals from the Austrian whisky club "Whisky Circle Pinzgau" have a good nose for interesting whiskies. I really liked their recently bottled Glenfarclas and this Ben Nevis, bottled in 2013, is a stunner too. A fun combination of leathery notes with a well-balanced sweetness, nothing's overdone, and if you like your oranges, just add a dash of water. Ben Nevis can be hit-and-miss, this one's a hit, no doubt about it.
Score: 88/100
(Nose: 89 Palate: 87 Finish: 88)
The sample was kindly provided by Rainer – thank you very much!