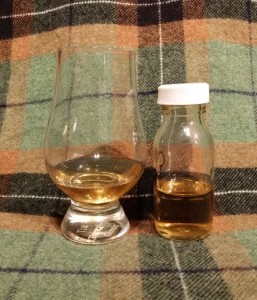 Dram data:
Distillery: Glenfarclas
Bottler: bottled for Whisky Circle Pinzgau
Distilled: 18.10.2001
Bottled: 26.01.2015
Age: 13 years
Limitation: – (shared cask)
Casks: Oloroso Sherry Cask
Alcohol: 51,5%
unchillfiltered; natural colour
Whiskybase link
Tasting notes:
Colour: honey
The nose starts off dark and mysterious. Wood honey, thick sherry, roasted cocoa beans, dried figs and dates, raisins, roasted walnuts, the faintest whiff of smoke, and a mixture of spices – cloves and wet cinnamon. The (slight!) smoky and spicy notes also remind me strongly of the classic Glenfarclas 15 – it's rare to find the distillery character, some of which I'm guessing stems from the direct-fired stills, so clearly defined in an independent bottling. All in all mostly driven by the dark notes and not as sweet as the impressions might suggest. The palate is very oily and waxy on the arrival, immediately covering teeth and lips. Flavour-wise very consistent with the nose. A well-rounded dram, covering the entire mouth with a dominating sherry sweetness, accompanied by toffee aroma, condensed dried dark fruit puree (raisins, figs, dates, plums), cocoa, roasted brazil nuts, and light spices to round it off. Very quaffable! The long finish starts with a waxy, oily sherry note with quite an alcoholic kick but soon after lots of dried fruits and spices start warming the entire oesophagus as the oils slowly slide down. Leaves quite a long-lasting presence in the mouth as well.
Verdict:
If you don't like heavily sherried drams – stay away! This dark and mysterious Glenfarclas (well, they don't state the distillery on the label, but if you enter the coordinates printed on it you end up at the distillery…) packs quite a heavy punch and is surprisingly oily on the palate – you're in for a surprise on the first taste, that's for sure!
Score: 87/100
(Nose: 86 Palate: 88 Finish: 88)
The sample was kindly provided by Rainer – thank you very much!