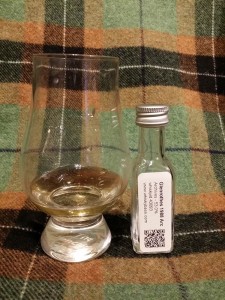 Dram data:
Distillery: Glenrothes
Bottler: Archives
Distilled: 06.06.1988
Bottled: 06.11.2013
Age: 25 years
Limitation: 213 bottles
Casks: Refill Sherry Hogshead 7318
Alcohol: 53%
Unchillfiltered; uncoloured
Whiskybase link
Tasting notes:
Colour: golden straw
The nose opens with vanilla and light, continental fruits – sweet red apples and ripe pears. Also sweet honey melon, light honey, banana chips, vanilla pudding and a slight layer of oak in the background to round things off. Not the most complex nose, but a nice, well-aged refill cask. The palate is slightly nippy with lemon drops on the arrival but soon a rich note of honey, apples, pears, honey melon and vanilla takes over. The second sip, with a few drops of water added, doesn't change things too much but the water brings out further nuances – lychees and pureed mixed tinned fruits. The cask is noticeable as well, rounding things off with a slight oak note and a (non-offending) hint of cardboard. Not too complex, just like the nose, but a very enjoyable mixture of distillery character and cask. The medium long finish starts with intense sweet fruit and honey notes upon swallowing, fading to reveal a slight oak influence at the end.
Verdict:
A no-frills single cask Glenrothes exhibiting a fine mix of distillery character and refill-cask influence. A light, fruity-sweet, well-aged malt not the most complex, but very rewarding. Great price, too – well, back when it was available, that is…
Score: 87/100
(Nose: 87 Palate: 88 Finish: 86)