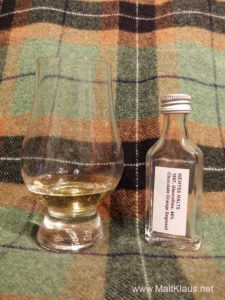 Dram data:
Distillery: Glenrothes
Bottler: Wemyss
Distilled: 1997
Bottled: 2015
Age: 18 years
Limitation: 357 bottles
Casks: Hogshead
Alcohol: 46%
Unchillfiltered; uncoloured
Whiskybase link
Tasting notes:
Colour: golden apple juice
The nose opens on… well, the suggestive title seems to work, there is orange up front, actually more like tinned tangerines, but that's the same category. Oh, and orange sherbet powder. The fizziness usually associated with sherbet powder comes in form of a constant alcoholic tingle. Chocolate? Hmmm… not really. Oh, hang on, Well, maybe something along the lines of a well-known chocolate treat filled with cherry and cherry liqueur. But definitely more on the cherry and liqueur side than chocolate. The background is made up of notes of vanilla, ginger and an herbal, flowery note that's hard to pin down. Cherry blossom perhaps? Light-ish and summery. The palate is quite a bit alcoholic on the arrival, more towards citrus rather than orange and on the dry side. One of those drams which don't provide any taste experience on the roof of my mouth, which is always a bit weird. Besides citrus we've also got some ginger, vanilla, a hint of caramel and dark chocolate (but the chocolate might be my mind playing tricks on me after reading the suggestive name…). Not too much going on here, it feels a bit disconnected – it's not only the currently autumnal weather asking for beefier drams. The short to medium long finish is slightly alcoholic upon swallowing with notes of tangerines, pickled ginger (only a hint), and vanilla following afterwards.
Verdict:
Hmmm…. that's a difficult one. On the one hand I rather liked the nose – I like the citrus/orange/tangerine style where the distillery character hasn't been steamrolled over by the cask. On the other hand it feels a bit disconnected and unfinished, like a painting halfway from sketch to finished artwork, especially on the palate and finish. Definitely more of a summer dram and for those who don't like too much cask influence.
Score: 79/100
(Nose: 83 Palate: 80 Finish: 78)
Thanks to Peter Moser for sharing the sample. Here are his thoughts on it (in German), which, funnily enough, are quite similar (no, I didn't cheat)