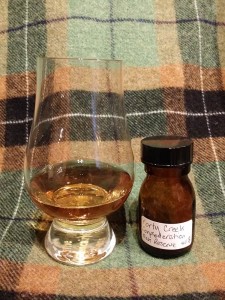 Dram data:
Distillery: Forty Creek
Bottler: original bottling
Distilled: –
Bottled: 2010 (Lot 1867-D)
Age: NAS
Limitation: –
Casks: Canadian Oak Finish
Alcohol: 40%
most likely chill filtered and coloured
Whiskybase link
This is a special tasting today in honor of whisky blogger Johanne McInnis' birthday today. She gave a bottle of this Canadian whisky to my friend Jo Lawson, who in turn gave me a sample so Jo and I decided to do a joint tasting blog post on it.
Ladies first!
Tasting notes Jo Lawson:
Colour: Dark honey
Nose: initial maple syrup sweetness, raisins, buttered popcorn with some underlying spices, develops into banana, vanilla and caramel.
Palate: Rich, soft and rounded, sweet oranges, white pepper, and oak, then marzipan, dates, figs and toffee.
Finish: Long, soft, slightly dry with some light spices.
Overall a rich, well balanced, complex whisky, that needs to be slowly sipped and savoured.
Tasting notes Klaus Doblmann:
Colour: amber
The nose starts with just the faintest whiff of acetone – a wee bit bourbon'ish. Quite light, but no wonder at 40% ABV. Sweet oak notes, palm syrup, vanilla-toffee pudding, milk chocolate, chocolate chip cookies, banana split, caramelised orange peel and half a cinnamon stick. Light, yet sweet and dark. On the palate it's unusually thick and creamy on the arrival for a 40% bottling strength. As additives and flavourings of up to 9% are allowed for Canadian whiskeys and there's no info to be found that Forty Creek doesn't make use of this possibility one can only speculate… Back to the tasting notes: Sweet corn, palm syrup, old banana, vanilla toffee pudding, sweet oak sap, very sweet caramelised ginger sticks, slight spices and aged walnuts with a counterbalancing dryness. The medium long finish starts out dry with spices and loads of sweet notes upon swallowing, mellowing down to more dry notes with the fading sweetness making place for oaky notes.
Verdict:
Now that was one of the more interesting tastings and my first Canadian whisky too. It's a sweet, dark, slightly dry dram, very different from Scotch and US whiskies. Perhaps a tad too sweet for my personal taste, but it's a nice change and a very quaffable dram.
Now, I cannot conclude this review without a few additional words: According to their website this whisky was finished in barrels made from 150-year-old Canadian Oak trees, which grow slower than their US counterparts, therefore supposedly imparting richer flavours. While that may or may not be the case, I can't be sure what I'm tasting in the glass is only the result of the mash, distillation and maturation as additives of up to 9% are allowed in Canadian whisky. While this is perfectly legal it's a completely different story than, say, ex-sherry-cask matured Scotches, which also impart other (natural) flavours. It's not disclosed, it's a huge amount that's allowed – and we don't even know for sure whether any additives were added here (I was unable to find any information on that, so I suspect it's the case and my palate agrees). If you have more info on that – let me know in the comments section below!
Well, make of this information what you want – it's a nice dram and I am raising the remaining drops to my Canadian friend Johanne. To your health!
Score: 84/100
(Nose: 84 Palate: 84 Finish: 84)