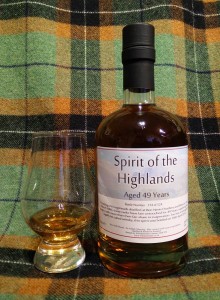 Dram data:
Distillery: Ben Nevis
Bottler: Whiskybroker.co.uk
Distilled: 15.03.1966
Bottled: 10.04.2015
Age: 49 years
Limitation: 524 bottles (50cl)
Casks: –
Alcohol: 29,5%
unchillfiltered; natural colour
Whiskybase link
Tasting notes:
Colour: Amber
The nose opens with very noticeable, fragrant old wood on dried dark fruits. Like entering a carpenter's cupboard where he hides his old dried snack plums. The oak is very noticeable and it borders on being too much, but it doesn't cross that line. No tannins, just plain old wood with a wee note of mustiness. Besides the oak there are hints of stale cigar smoke, sweetened pipe tobacco, cocoa, dried orange rinds, all the really dried dark fruits you can imagine, also dried apples, dark sugar, caramel and just a wee bit of alcohol. The palate is, well, completely different from the nose. Like licking old, damp, nearly rotten oak staves. Oh my. Lots of old wood and a very young'ish sour note (fizzy sweets or wine gum with citric acid?). Gone is the sweetness, there's even a salty note and quite a lot of herbal bitterness. No, that's not pleasant at all. With a drop of water: Just kidding. The finish starts out bitter and herbal with loads of old oak. Lasting longer than you'd want it to, but it gets better after about a minute or so when the sour notes fade, leaving oak and herbs.
Verdict:
This is now the second spirit I've tried which once was whisky when it still had above 40% ABV. The first one was the 23yo Macallan, also bottled by Martin Armstrong. I did not enjoy that one either. Maybe the third time's the charm? Buy it as a rarity and for nosing only (or for educational purposes or maybe for your mother-in-law…). In Martin's defense I have to add his "regular" bottlings are usually very good to stunning, haven't had a duffer yet. Now excuse me, I need to pour myself a heavily peated Islay to gargle and cleanse my palate.
Score: 34/100
(Nose: 85 / Palate: 19 / Finish: 23)