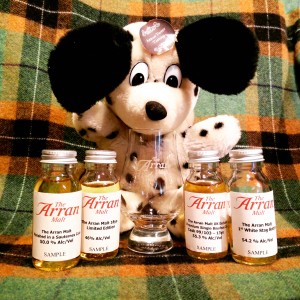 On the 22nd of April 2015 whisky geeks on twitter followed the call from Steve Rush (@TheWhiskyWire) and @ArranWhisky to taste four different drams from the beautiful distillery on the Isle of Arran under the Hashtag #ArranWhisky
Thanks everyone involved for the great time and organising the event – looking forward to the next tweet tasting!
You can find detailed tasting notes on all the drams we tasted on the night below. (The 18yo tasting notes are a bit expanded from my original review on this site, no need to completely rewrite them 😉 )
Also see my travel report here for more information about the distillery.
Arran Sauternes Finish:
Distillery: Arran
Bottler: Official Bottling
Distilled: –
Bottled: 2014
Age: NAS
Limitation: –
Casks: Sauternes Finish
Alcohol: 50%
unchillfiltered; natural colour
Whiskybase link
Tasting notes:
Colour: light gold
The nose opens up with light fruits and noticeable, but not overwhelming alcohol. Ripe grapes, light raisins, ripe Kiwi, melons, peaches, honey, lemon rind, grappa (grape kernels) with mixed spices on top and some background vanilla from the initial maturation. A very summery sweet fruit mix. The palate initially a bit heavy on the alcohol with vanilla, honey, more (cask) spices than fruits, a bit like grappa actually. A creamy texture, like a yogurt with grapes, also milk chocolate and liquorice. The wine cask influence is strong here. The medium long  finish starts out spicy and herbal with some remaining honey sweetness, getting drier with pronounced maltiness and a slightly soapy touch towards the finish .
Verdict:
A fresh summery, young and kicking dram with fruits and spices – it can't deny the wine finish with its pronounced grape influence.
Score: 82/100
Arran 18yo limited edition:
Distillery: Arran
Bottler: Official Bottling
Distilled: –
Bottled: 2015
Age: 18
Limitation: 9000 bottles
Casks: Ex-Sherry Hogsheads
Alcohol: 46%
Unchillfiltered, natural colour
Whiskybase link
Tasting notes:
Colour: straw
The nose immediately reminds me of a very rich stewed fruits compote of apples and pears with a liberal amount of sugar and some apricots and peaches thrown into the mix. It is on the sweet side. Toffee, honey, cocoa, dark chocolate, very creamy, liberal amounts of vanilla and some sweet sherry with allspice, cinnamon, blackberries, apple compote, a flowery note (violets?) and slight wood spices in the background – I guess these were (mostly?) American wood Sherry casks, I'm not really getting the spices usually found in European oak casks (not a fault, really). The palate is a bit lighter in style with greener fruits and not quite as sweet. White apples, pears, peaches, green tea, diluted honey, caramelised ginger, more noticeable cask spices, vanilla, custard. The finish is well-rounded, medium long to long with honey sweetness, malt, light fruits (apples, pears), nuts and cask spices getting more pronounced towards the finish.
Verdict:
Wow, I can't believe it has been eight years since I bought my first bottle of the inaugural 10-year-old Arran and falling in love with it. A few years later Arran has now come of age and has released the first official 18-year-old. This release remains true to the light Arran style, not overpowering the distillery character with too active or flavour-heavy casks, while still offering a well-aged and characterful malt.
Score: 89/100
Arran Premium Single Cask Bourbon 99/103 13yo UK exclusive edition:
Distillery: Arran
Bottler: Official Bottling
Distilled: 19.07.1999
Bottled: 21.02.2013
Age: 13 years
Limitation: 158 bottles
Casks: Bourbon barrel #103
Alcohol: 55,3%
unchillfiltered; natural colour
Whiskybase link
Tasting notes:
Colour: light gold
The nose opens with a load of vanilla, custard (not quite the sweetness, though), ripe banana, green apples, oranges, a bit of dusty wood, hay, pepper, cocoa powder. Quite creamy too. The palate kicks in the door with a bang. Loud alcohol, but not too much, lots of vanilla pudding sweetness, oranges, raisins, dates, quite some dark fruits (quite unusual for an ex-bourbon cask) and tropical fruits – mango, ripe pineapple. A taste of bourbon in the background as well (probably just the 1st fill cask). The long finish starts vanilla custard sweet and fades down with influences of fresh bourbon cask spices, malt. It just fades and fades and fades…
Verdict:
Oh wow. This is a lively, kicking screaming 1st-fill ex-bourbon cask dram with lots going on. Long sold out, though, sorry, but Arran bottles single "premium" casks (including some bourbon ones) twice a year, so be on the lookout for these, if you're interested.
Score: 89/100
Arran White Stag Bottling 1st edition:
Distillery: Arran
Bottler: Official Bottling
Distilled: 1997
Bottled: 2015
Age: 18 years
Limitation: ca. 214 bottles
Casks: Refill Oloroso Sherry Hogshead 1997/737
Alcohol: 54,2%
unchillfiltered; natural colour
Whiskybase link (not yet available)
Tasting notes:
Colour: Gold
The nose starts out waxy with notes of cherries, blackberries, blackcurrant, marzipan, aniseed, ripe oranges, cloves, eucalyptus with dark, roasted nuts, toffee and dark chocolate in the background. The palate is initially much more sweet than fruity. Lots of creamy toffee covered in milk chocolate. Baked apples with cinnamon, dark sherry, Demerara sugar, syrup, slightly dank wood (but in a good way). The long and rich finish starts off creamy and sweet with cocoa and ground coffee notes, fading away slowly.
Verdict:
A more dark and mysterious single cask sherry bottling. Not the usual, lighter style we're used to seeing in the official Arran bottlings, but that's what single cask bottlings are for after all. Hard to believe this is a refill cask – I guess the first maturation wasn't very long. Look out for that bottling going on sale in June when it's 18 years old!
Score: 88/100