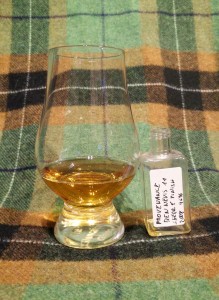 Dram data:
Distillery: Ben Nevis
Bottler: Douglas Laing Mc Gibbon's Provenance
Distilled: Winter 1996
Bottled: Spring 2008
Age: 11
Limitation: –
Casks: Sherry Finished Butt DMG 4236
Alcohol: 46%
Unchillfiltered, natural colour
Whiskybase link
Tasting notes:
Colour: amber
Let's start with the nose. Did they bottle the right cask? 11 years? Dark, mysterious sherry, leather shoes, caramel cough lozenges, vanilla, almost dried paint, cocoa, medium dark milk chocolate, very dry figs, dates and raisins and an overripe peach.  Not really prominent sweetness, but some Demerara sugar in the background. Very well-integrated alcohol. The palate starts out warm, rich, oily, coating, very mouth-watering and is very much in line with what the nose gave us. Cough lozenges (think Ricola), old leather couch, some tannins giving it a nice bitter touch, vanilla, caramel, stale ground coffee, burnt Demerara sugar, wood honey and a puree of the darkest fruits you can find. The finish is an interesting experience in itself. The taste is so yummy you tend to keep it in your mouth for a long time, watering it down, which in effect also waters down the finish. But have a sip neat without the added saliva and it is as oily, rich, waxy, dark and Demerara sugar sweet as you're expecting, mellowing down beautifully and lingering for a long time.
Verdict:
Thank god this wasn't a blind tasting, I would've made an utter fool of myself putting it at 20+ years easily. A very strong and powerful sherry finished dram from the often overlooked Ben Nevis distillery. Probably unobtainable by now, having been bottled as a single cask in 2008, it is a prime example to never, ever, look down on younger malts!
Score: 89/100
(Nose: 89 palate: 89 Finish: 89)
Thanks to Manny for the sample!