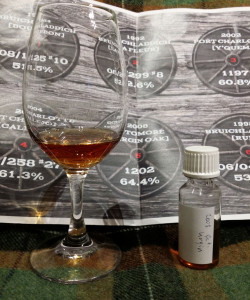 Dram data:
Distillery: Bruichladdich
Bottler: official
Distilled: 2008
Bottled: sample drawn 2015
Age: 7-ish
Limitation: unavailable
Casks: virgin oak cask 1202
Alcohol: 64,4%%
unchillfiltered and natural colour
Tasting notes:
Colour: dark amber
So Bruichladdich has done it again! The latest Octomore 7.4 "virgin oak" release is out. Well, all virgin oak? Nopedy nope! Only 25% of the liquid is actual full-time virgin oak matured. I haven't got a sample of that one and a full bottle might exceed my budget, so let's rummage through my sample cabinet – I think there might be something similar. Hey! What's that? A 2008 virgin oak Octomore cask sample, drawn from the cask for the 2015 Feis Ile warehouse tasting with Jim McEwan. That's the ticket! Uncut, unblended, let's see what it's like! On the nose there's not that much peat. Well, that's not surprising if you look at Bruichladdich's stills, they produce a much lighter distillate than, say Laphroaig or Ardbeg. Still quite a lot of peat, but not overwhelming and that's good! A slight alcoholic tingling, but you'd never guess this was 64% ABV! Very well-integrated! Fresh vanilla, vanilla pods, toasted cask, caramelised oak sap, Lapsang Souchong (unboilt), burning oak staves and a coal-fired steam engine squirting oil around, burnt toffee, heather, ginger, slightly toasted orange peel and a squirt of citrus providing a hint of distillery character. At the same time it is young. Powerful, punchy, young wood, but at the same time not too young and metallic. Fascinating stuff. On to the palate. Oh, there we go. Full coal-fired steam ahead. An initial alcoholic blast, but fading soon to reveal loads of fragrant peat and toasted fresh cask caramel sweetness. Oily! Toasted vanilla pods, charcoal, dried flowers, a slightly dry note – something like propolis mixed with oak sap, toasted caramel and toffee, dark milk chocolate and caramelised demerara sugar. Wham – this is really unique. Young, fierce, rascall-ey, just like the nose, but a bit sweeter, fascinating. Not your everyday dram at all. To be perfectly honest, that would be the time I'd decant the cask into a good refill hoggie to let it mellow out for a further 5-10 years, no more of the fresh oak. Which might probably be why Bruichladdich is only using 25% of similar juice for the 7.4 release… The long finish is surprisingly mellow upon swallowing – a velvet glove put over the iron fist. Oily caramel and vanilla sweetness mixed with loads of (non-phenolic) peat smoke, a bit of sap and dry propolis, dried herbs, thickened peated orange juice and mellowing down to caramel sweet peaty goodness which seems to last forever. What about adding water, you ask? Errr…. no!
Verdict:
Never say never but this will probably never be bottled in a widespread release like the 7.4, which is a pity as it really is a unique experience. Maybe a distillery exclusive valinch? It's nothing too wild in concept – just a heavily peated malt matured in a fresh, "virgin" oak cask (not sure if barrel or hoggie). But it works. Definitely not for everyone – but when has Octomore ever been that? Not available anywhere, I'm afraid, except if you bribe distillery staff when on Islay, perhaps 😉
Score: 89/100
(Nose: 88 Palate: 89 Finish: 90)