Day 7: Islay
Leaving the marvellous Isle of Arran behind is never easy, but the prospect of landing on the shores of Islay in a few hours time made it a wee bit easier for the three of us. After making our way over to Claonaig by ferry from Lochranza and a taxi ride with David Bridge, we arrived at Kennacraig to board the good old Calmac vessel "Hebridean Isles". The 2-hour trip on the boat was very smooth as the sea was really calm so we arrived in Port Askaig right on schedule where our car from D&N MacKenzie was already waiting for us. By the way: Great service from them – when you need to hire a car on Islay, I can recommend them!
What next? A distillery visit, of course!
Video: Arriving at Port Askaig
Caol Ila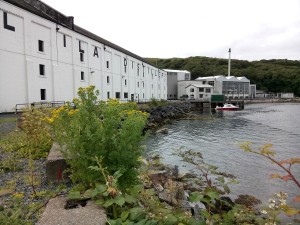 Driving down to Caol Ila distillery does wonders to remind the driver of being on a small island – a long, winding, single track road with passing places.
The distillery was rebuilt with an increase in production in mind in the 70s – and that's exactly what it looks like – 70s industrial design with the visitor's centre merely being an afterthought – it's really just a small room. Nonetheless – the location is beautiful, overlooking the Sound of Islay with clear visibility of the Paps of Jura on a good day – which it was. As the distillery is owned by Diageo we got a free tour (and Glencairns) as members of Diageo's "friends of the classic malts" club – everybody likes a free tour, especially when led by a lovely and engaging young Ileach (Charlene or Cherilyn – sorry, I didn't get your name 100% over the ruckus the machinery was making 😉 ) .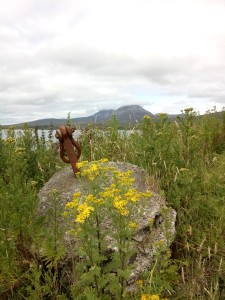 The only downside to touring a Diageo facility is: no photos. Company policy. Oh well. The distillery itself is very big, loud and hot with very few people running it as everything is controlled by computers. The most picturesque place in the distillery is the stillhouse with its huge glass windows which make for breathtaking views on a clear day. Oh, and the six stills (3 wash / 3 spirit) are impressive too, currently spitting out 6.5 million litres of pure alcohol per year, making it the largest distillery on Islay. A few additional facts and figures to give you a sense of how huge this place is:
– 10 washbacks, timed 6 hours apart, each holding 63.000 litres of wash with a fermentation time of 60 hours. The contents of one washback fills all three wash stills resulting in 12.000 litres at 24% ABV after the first distillation. 24.000 litres of spirit after the second distillation are produced each day.
– The distillery receives four lorry loads of malt each day from the Port Ellen maltings, all peated using Islay peat
– It is the only distillery on Islay which can use both fresh and sea water for cooling
– 7.000 casks stored on site, the rest is stored on the mainland
After touring the really hot and noisy production area it was time to sit down for two drams in the old cooperage, I tasted (just a wee sip as I was driving) the Distiller's edition and the NAS Moch expression. The former was quite rich and sweet with dark fruits and the latter was quite light with lots of vanilla and light fruits – sorry, no proper tasting notes…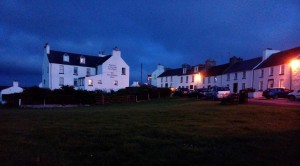 It finally was time to leave and drive down to Port Charlotte to check in at the Port Charlotte youth hostel where Karl and his wife, who run the place, were already awaiting our arrival. The rest of the day was rather uneventful – cooking Spaghetti and heading out to the Port Charlotte hotel for a pint or two or three….
Day 8: Islay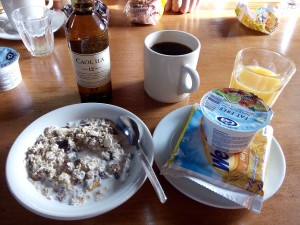 The first full day on Islay, a Monday, started with beautiful weather and clear skies – and, of course, breakfast! I couldn't resist cracking open that 20 cl bottle of Caol Ila 12 to "refine" my muesli… *ahem*. My two brothers followed suit…
Today would see us visiting two distilleries – Bowmore and Kilchoman.
Bowmore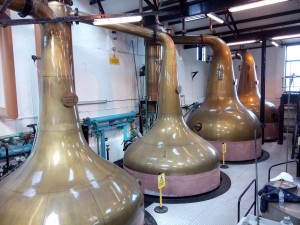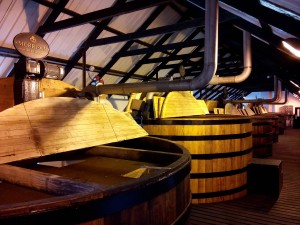 Arriving at Bowmore we of course had to take a look at the infamous wonky bollard in front of the pharmacy at first as there was still some time to kill. Heading over to the distillery we were impressed by how beautiful the place looked – clean, freshly painted walls, flowers everywhere and an inviting waiting area with bar upstairs – they really care about appearance.
Sadly the distillery was silent due to lack of water – an issue we would come across when visiting other distilleries as well. There's an upside to a silent distillery, though: It is quiet and cool. The tour itself was nice and informative, though we didn't get to see their own traditional malting floors as there was no production going on. A walk into a traditional dunnage warehouse (not the #1 vaults, though) and two drams paired with crackers and chocolate (sorry, I didn't write down which drams we tasted…) concluded the tour. All in all a nice and solid standard tour.
A few tidbits of information about the production process at Bowmore:
– A mash consists of 5 tonnes of grist. 1st water 63°C 27.000 litres, 2nd water 85° 13.000 litres, 3rd water at 100°C becomes the first water of the next mash
– Low wines come off the still at 22% ABV
– The middle cut is taken from 74-61% ABV, which takes about 8 hours
When you're visiting Bowmore also make sure to visit the beach and the nearby pier – these locations allow for some great pictures of the distillery.
Kilchoman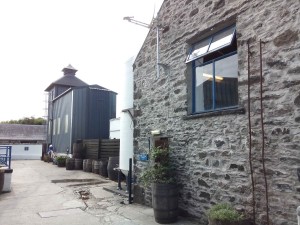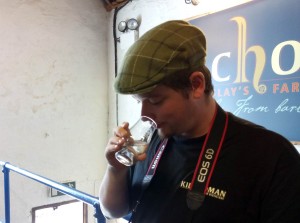 After touring Bowmore it was time to head north to the Kilchoman distillery for an excellent lunch at the cafe and the Monday-only manager's tour. We had a feeling it was going to be a great tour – but we had no idea what the following two hours and a half would have in store.
Our tour guide was Tony, production manager at the farm distillery. Luck was also on our side: Besides us three brothers there were only two other people on the tour, a German with his daughter, making it a very intimate and personal experience. Intimate and personal is also the perfect way to describe the distillery: It is, after all, a small farm distillery and as soon as you set foot on the distillery grounds and enter the visitor's centre you feel welcome and at home.
The tour started out on the malt floor where the steeped barley is spread out to germinate. Before I could taste my first dram, fittingly the 100% Islay, I had a go with the grubber turning the barley. Every five weeks Kilchoman distills new make from their own barley malted on their own maltings, going through two tonnes of barley turned into 1,5 tonnes of malt.
After taking a look at the kiln it was time to head into the still house, where all the important production steps are carried out in one building. It's all a very tight fit with not much space to move around – and difficulties photographing without an extreme wiedeangle lens or some panorama stitching. As most other distilleries Kilchoman does three waters when mashing and they're very careful to get a very clean wort in the end. I can vouch for that – we had a chance to taste the (fully fermented) wash and it was delicious, more so than others I've tried. Speaking about fermentation: Remember Caol Ila with its 60-hour fermentation time? Kilchoman ferments for up to twice as long – 100 to 125 hours.
After fermentation it is time for the wash to be distilled, first in the wash still with a capacity of 3230 litres, then in the spirit still with a capacity of 2070 litres. Both stills turn 6000 litres of mash into 600 litres of spirit at about 70% ABV. The folks at Kilchoman are aiming for a clean, light, fruity spirit which (needs to) mature very quickly. A reflux bowl in the spirit still, a slow distillation at a rate of just 3,5 litres per minute and an appropriate heart cut help achieve this goal  and I can vouch for that as well, having tried the new make.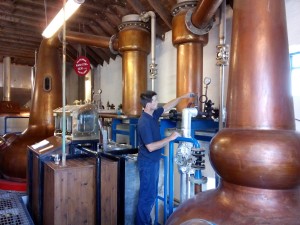 Video: Spirit safe at Kilchoman Distillery
One thing has changed between 2013 and 2014 at the distillery: In 2013, when we took the standard tour, we were able to visit the warehouse on site. The barrels have since been transferred to a new, larger warehouse and the space is now used for vatting, storage and bottling – which is where our tour was headed next. At Kilchoman they source their casks (ex-bourbon from Heaven Hill) fully assembled and not broken up and reassembled on arrival in Scotland. This allowed our group to sniff an emptied bourbon barrel – still very fresh and bourbon-y. The downside of doing so is transportation costs and the risk of accidents – we spotted one barrel with shipping damage. The upside is fresher wood and I am sure the still wet casks help speed up maturation a bit.
Speaking about maturation: About 200 casks are individually sampled and assessed every year at 50% dilution, which apparently helps greatly with assessing the quality – try that the next time you're having a cask strength whisky in your glass.
Tasting – I nearly forgot about that. In the bottling area we were able to taste three different expressions straight from the casks as duty had already been paid: A single cask butt and two finished vattings, poured back into the casks. I'm not sure on the details but I think one was a "leftover" from a bottling run and another one was awaiting bottling. I still have a sample at home from one of these.
Video: Pouring samples straight from the cask at Kilchoman Distillery
A visit to the – also recently upgraded – bottling hall, where much of the work is still done by hand, announced the upcoming end of our in-depth tour. It was time to ask two questions which had been eating at me all the time:
– How's the demand affecting laying down stock for older expressions? It's very difficult – don't expect much older Kilchoman bottlings or even a 10-year-old expression anytime soon.
– Is Kilchoman cash flow positive? Yes, they absolutely are, thanks to everyone demanding so much of their delicious juice!
The official end of the tour was marked by a tasting of the 2014 Machir Bay and Loch Gorm expressions (both very nice) and since we asked kindly we also got a taste from the Feis Ile 2014 bottling.
In the end the tour was worth every penny of the 27 pounds ticket price per person. Getting to tour the distillery in-depth with a senior member of the production team proved invaluable for the inquisitive bunch we were. If you've got the chance to visit Kilchoman on a Monday – do yourself the favor and book the manager's tour, you won't regret it!
Evening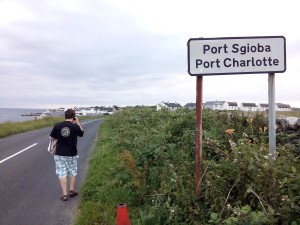 After touring the distillery we spent an hour just driving around* Loch Gorm and the northern part of Islay enjoying the extremely hot, sunny day – it was hard to wipe the grin off our face from the previous experience at the Kilchoman distillery. We also visited the old Kilchoman parish church and the associated graveyard – it's sad to see the church abandoned with the roff fully collapsed…
The evening was spent cooking homemade spaghetti carbonara at the youth hostel followed by a long walk on the beach and around Port Charlotte accompanied by a fine cigar.
This was only our first full day on Islay – and what a day it had been. Stay tuned for part 4 including notes on touring the three distilleries in the south of Islay.
*as previously stated: I was the designated driver and only tasted tiny amounts of whisky, taking most of it with me in sample bottles.