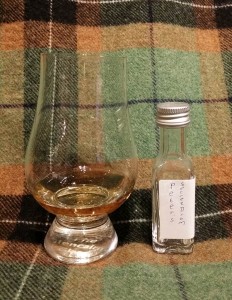 Dram data:
Distillery: Bowmore
Bottler: McClelland's (Morrison Bowmore)
Distilled: –
Bottled: ca. 2014 (code L142025)
Age: NAS
Limitation: –
Casks: –
Alcohol: 40%
Chillfiltered; natural colour
Whiskybase link
Tasting notes:
Colour: gold
Oh, a blind tasting! I love blind tastings! Let's see what we've got here! The nose opens on the fruity and sweet side. Heather honey, caramelised orange peel, vanilla pudding powder, candy floss, baked red apples with cinnamon, cloves and demerara sugar. Mellow oak notes in the background too – I think this dram is in its early to mid teens. Let's check the palate. Hmmm… pretty light. Probably 40% ABV, certainly no more than 43. Diluted heather honey, fresh heather, yellow apples, pears with a metallic note in the background – a bit off-balance, really. The short to medium finish is pretty light with sweetness up front, making space for a slightly yeasty/green aftertaste with a hint of smoke lingering at the end.
Verdict:
Well, this one started quite nice on the nose – probably a tad too sweet for my taste, but, hey. Palate and finish couldn't keep up, sadly, they're unbalanced and young. Time to find out what this mystery dram is…
Oh, a NAS supermarket "Islay" malt at 40% bottled by McClelland's. Oh, that's easy to find out – it's a Bowmore, as the company behind McClelland's is Morrison Bowmore. Wait, Bowmore? Where's the peat? Where's Islay? Knowing what it is now there is a hint of peat smoke, yes, but it blends in with the alcoholic note. Maybe that's what I thought the oak note to be on the nose? I am rubbish at detecting very light levels of peat smoke, so that might come into play here as well. Is this where they hide batches from Bowmore's own maltings where the maltster fell asleep in front of the peat fire, unable to shovel…?
For 20€ a good malt for casual sipping and keeping around the house for guests you don't want to pour your best and expensive drams. There's nothing Bowmore-ish about it, though, which is a pity. Upon looking it up on Whiskybase I saw I gave a different batch of this a couple of years back a score of 74 – fairly consistent I'd say.
Score: 75/100
(Nose: 83 Palate: 76 Finish: 74)
Thanks to my wee brother Peter for the sample!