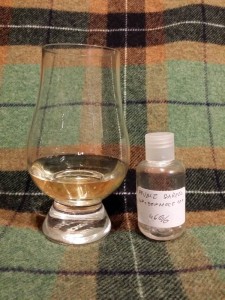 Dram data:
Distillery: Highland Park / Bowmore
Bottler: Douglas Laing
Distilled: –
Bottled: 2009
Age: 10
Limitation: –
Casks: –
Alcohol: 46%
unchillfiltered; natural colour
Whiskybase link
Tasting notes:
Colour: straw
The nose is very light and gentle – quite surprising, to be honest. One would expect greater, bolder things. Light and fragrant peat smoke with burning lavender in the mix, a slight perfume note, vanilla pudding where the cook was very stingy with the sugar and the vanilla, the same cook also overly diluted the honey with sugar water (again, being stingy with the sugar) and had just a pinch of coconut and ripe pineapple left.

Nothing bad about it, no off notes, just too little going on, as if it were diluted 1:1 with neutral whisky aged in a 5th-fill cask. On the palate we've got more of the same. Spirit-driven, but not sharp on the alcohol, it's just that the flavours are muted, just like on the nose. Light and fragrant peat smoke with burning lavender and violets (ah-ha! that's Bowmore talking, finally!), a light malty sweetness mixed with diluted sugar, a few drops of grapefruit and a grassy-green background note (green tea, perhaps?). Quite dry with not much happening on the gums. Hmmm… there must be more, Bowmore and Highland Park have so much more to offer. Usually, that is. Let's see. Well, an idea of ginger-infused honey with cayenne pepper for added spice and a hint of hubba bubba. The short to medium long finish has dominating (but not sharp!) alcohol upon swallowing, quite dry, with malty-sweet, lightly peaty, somewhat soapy, flowery notes appearing shortly thereafter.

Verdict:
Looking at the whiskybase average before writing this verdict has me slightly perplexed. The average is more than 10 points higher than my score and no one else rated it in the 70s. My sample is also perfectly fine. I think. Huh. Well, I'll stick to my notes. There is absolutely nothing "bad" about this, no off notes, it's just very muted and light with not much going on, despite the bottling strength. Quite unlike Highland Park and Bowmore, more like a peated, re-refill matured Highlander. This could've been vastly improved by a year or two of marrying in a more active cask. What was the rush in getting that one out the door?
Score: 73/100
(Nose: 73 Palate: 72 Finish: 72)
Thanks to malt mate Manny for the sample!