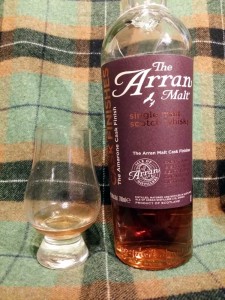 Dram data:
Distillery: Arran
Bottler: Original bottling
Distilled: –
Bottled: ca. 2013
Age: NAS
Limitation: –
Casks: Amarone finish
Alcohol: 50%
unchillfiltered; uncoloured
Whiskybase link
Tasting notes:
Colour: amber with cherry juice
The red wine finish is very apparent on the nose! An initial blast of fresh citrus fruits (ripe oranges and tangerines) with red fruits (cherries, brambles, strawberries, cassis) and cask spices (allspice, cloves). Initially I was not a fan, the freshly opened bottle was a tad too young, but it improved greatly with oxygenation. Adding a tablespoon of water and time in the glass helps to bring out the fruits even more.

It is a heavy finish, so if you don't like red wine finished whiskies, this one's not for you. On to the palate now. Very consistent! More initial citrus / orange notes with semi-sweet (light grape juice sweetness) berries trailing behind, rather on the dry side. Cherries with a slight cracked kernel bitterness, cassis, brambles, not yet fully ripe strawberries and plums. Just a pinch of spices in the background. The short finish is precise with a load of fresh, sweet red berries and a pinch of spices, fading quickly with just a hint of oak in the aftertaste.

Verdict:
Classic Arran citrus notes paired with red berries, spices and dry notes from a pretty heavy but not overdone Italian red wine finish. It took me a while to get used to this dram, but the further down the fill level in the bottle went, the more I found myself liking it. Not the oldest, not the most complex, but a nicely quaffable daily dram.
Score: 83/100
(Nose: 84 Palate: 83 Finish: 83)