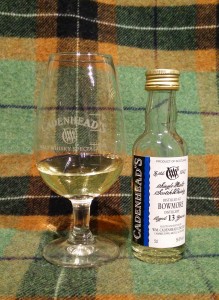 Dram data:
Distillery: Bowmore
Bottler: Cadenhead's
Distilled: 2001
Bottled: 10.2014
Age: 13
Limitation: 270 bottles
Casks: Bourbon Hogshead
Alcohol: 56.6%
Unchillfiltered, natural colour
Whiskybase link
Tasting notes:
Colour: straw
The nose opens with a mixture of typical Bowmore medium-strength peat smoke, vanilla, cooling peppermint (from the noticeable alcohol), lemon, a hint of white pepper, and, of course, the flowery violet note found in most modern Bowmores. Barely any wood notes there, it's more on the clean and light side – typical ex-bourbon refill cask. After some time in the glass I also get notes of coal, sweet pineapple, sweet grapes, apricot, caramel (toffee without the sweetness) and honey. With water: sweeter and more floral. The palate is also on the lighter and delicate side. Light, aromatic peat smoke, a diluted sweetness of malt and honey, custard, spring flowers, banana milkshake, strawberries, sweet grapes, children'c cocoa drink. Quite a bit oily, coating the mouth nicely. Water brings out the sweetness a bit more without diluting the flavours. The finish is initially a bit herbal-spicy and the aromatic mixture of malt, fragrant peat smoke, waxy notes and a slight sweetness stay for a long time – interestingly a bit longer in the mouth than in the throat. You just don't want to go brush your teeth…
Verdict:
This is a fine example of what good quality refill casks (don't tell me this is first fill, I won't believe you…) can do to a well-made distillate. It is not an in-your-face dram, it is more delicate and subtle, a style which isn't necessarily en-vogue these days with all the finishes and the (sweet) Sherry hype. Nonetheless, a fine balance between peat smoke, fruit, flowery notes and sweetness in both nose, palate and finish. Give it a bit of time and give it a splash of water for the maximum pleasure.
Score: 88/100
(Nose: 88 palate: 87 Finish: 88)
Sample provided by Cadenhead's Whisky Market Austria – Cheers!