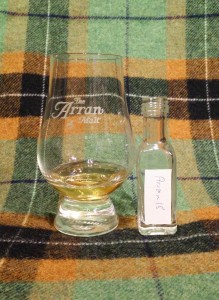 Dram data:
Distillery: Arran
Bottler: Official Bottling
Distilled: –
Bottled: 2015
Age: 18
Limitation: 9000 bottles
Casks: Ex-Sherry Hogsheads
Alcohol: 46%
Unchillfiltered, natural colour
Whiskybase link
Tasting notes:
Colour: straw
The nose immediately reminds me of a very rich stewed fruits compote of apples and pears with a liberal amount of sugar and some apricots and peaches thrown into the mix. It is on the sweet side.

Toffee, honey, cocoa, dark chocolate, very creamy, liberal amounts of vanilla and some sweet sherry with allspice, cinnamon and slight wood spices in the background – I guess these were (mostly?) American wood Sherry casks, I'm not really getting the spices usually found in European oak casks (not a fault, really). The palate is a bit lighter in style with greener fruits and not quite as sweet. White apples, pears, green tea, diluted honey, caramelised ginger, more noticeable cask spices, vanilla, custard. The finish is well-rounded, medium long to long with honey sweetness, malt, light fruits (apples, pears), nuts and cask spices getting more pronounced towards the finish.
Verdict:
Wow, I can't believe it has been eight years since I bought my first bottle of the inaugural 10-year-old Arran and falling in love with it. A few years later Arran has now come of age and has released the first official 18-year-old. This release remains true to the light Arran style, not overpowering the distillery character with too active or flavour-heavy casks, while still offering a well-aged and characterful malt. I need to get a bottle of this, the tiny sample I managed to score at the Whiskymesse Vienna (paid for out of my own pocket) makes me want for more!
Score: 89/100
(Nose: 90 palate: 88 Finish: 88)