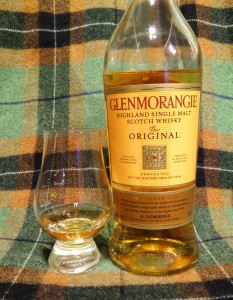 Dram data:
Distillery: Glenmorangie
Bottler: Original Bottling
Distilled: –
Bottled: Ca. 2013 (lot L13 260)
Age: 10
Limitation: –
Casks: –
Alcohol: 40%
Chillfiltered, coloured
Price at the time of purchasing: 30€
Whiskybase link
Tasting notes:
Colour: light gold (only very little caramel then, probably just to smooth out batch variance…)
The nose is what you'd expect from "Scotland's tallest stills" – a clean, light distillate. Fresh vanilla notes with a mixture of honey and dextrose sweetness with a hint of yeast and malt. Also red apples, ripe pears, freshly squeezed sweet grape juice and a slight almond bitterness and ginger. The palate is also light and not particularly demanding or overly eventful – a little bland and weak, even for 40% ABV. Vanilla, apple peel, diluted honey, green tea, marzipan, not yet fully ripe peaches. The medium-long finish is light, not overly sweet, with green tea, custard, apples and cracked apricot kernels with a yeasty note appearing at the very end.
Verdict:
"Delicate alluring and very complex" is what they say on the label. Delicate – yes, absolutely, but alluring and complex? Not so much. This is an easy-drinking dram, not particularly engaging nor demanding. A classic case of a light entry-level malt – not necessarily aimed at the experienced whisky drinker but one to keep in the house to offer your non-whisky drinking friends as an introductory malt which you can enjoy with them.
Score: 78/100
(Nose: 80 palate: 77 Finish: 78)