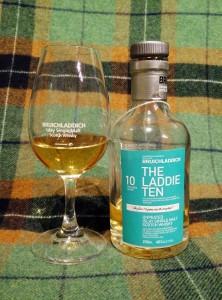 Dram data:
Distillery: Bruichladdich
Bottler: Original Bottling
Distilled: –
Bottled: ca. 2013 – no batch No. on the wee bottle
Age: 10
Limitation: –
Casks: American Oak
Alcohol: 46%
Unchillfiltered, natural colour
Whiskybase link
Tasting notes:
Colour: reddish gold
The nose is typical unpeated Bruichladdich – I like to call it the gentle side of Islay. Some very good and active ex-bourbon casks went into this batch and if it didn't say "american-oak-matured" on the label I'd say there's some ex-sherry casks in the mix as well. And yes, I'm fully aware they make sherry casks out of American oak as well. Vanilla pudding, toffee and fudge. Creamy and well-rounded but maybe a wee bit shy, like a 10-year-old lady (terrible pun, I know). The signature citrus notes are there, right on the top, and in the background behind all the citrus, vanilla, custard toffee goodness there are some fruits to be found. Something along the lines of fully ripe apples and red gooseberries. The palate is very soft and well-rounded for a 46% ABV dram (trying hard to avoid the expression "smooth"). Oily (go lick your lips!), custard-y, but not overly sweet. Vanilla? Definitely – strong ex-american bourbon barrels showing their potential. Malt sweetness (medium caramel malt for those in the know) paired with delicate wood spices but only a slight, pleasant bitterness and no tannins. Fruits? Well, yes, but no in-your-face fruit notes, more like a background orchestra of (over-)ripe pineapple and kiwi, red apples, not yet fully ripe strawberries and grapefruit juice. The finish is, again, a bit shy, but oily and a nice balance between malt sweetness, vanilla pudding and light citrus notes. Medium long – it just fades away very pleasantly.
Verdict:
Classic Bruichladdich, this one. Strong on the vanilla notes thanks to good wood and featuring the citrus / lightly fruity distillery character. A bit shy, not an in-your-face dram, but not too fragile either. What a shame they had to discontinue it (for the time being) as they don't have enough mature stock from the initial years after reopening the distillery to cope with demand. Let's hope it will make a reappearance soon. Until then – buy a bottle when you stumble across one.
Score: 86/100
(Nose: 87 palate: 86 Finish: 85)
Thanks to my wee brother for the sample from the bottle we brought back for him from the distillery two years ago 😉