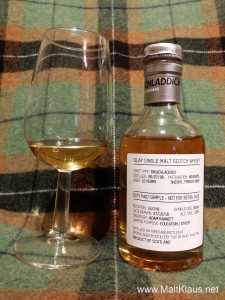 Dram data:
Distillery: Bruichladdich
Bottler: original bottling
Distilled: 26.07.2006
Bottled: 27.10.2016
Age: 10 years
Limitation: –
Casks: Ex-bourbon, sherry, French wine
Alcohol: 50%
unchillfiltered and uncoloured
Whiskybase link
The "24 drams till Christmas" blog series is back – and so is Bruichladdich's "Laddie 10", after a two-year absence on the shelves due to a lack of stock. Is there any dram more fitting to kick off this year's Christmas countdown?
Tasting notes:
Colour: honey gold
The nose is undeniably that of a laddie dram. Light in style yet sophisticated with immediate notes of citrus fruits, tinned tangerines, lychees and pomegranate. A light perfume note, too. Or is that chewing gum? Hubba bubba, perhaps. In the background we get grapes with skins, dry French red wine (I know it says so on the label, but it's apparent), red berries (brambles, elderberries) with cream and a mixture of different oak spices. I don't have an old bottle of laddie 10 open at the moment, but while it is recognizably a laddie dram, the French oak and wine cask influence are apparent, more apparent than my memory of previous batches before the temporary discontinuation. The palate is rolling and gentle on the arrival, it takes several seconds for the 50% ABV to become apparent. Slightly dry at first, then getting rich, creamy, mouth coating yet keeping the light-ish style. Light, yet complex with loads going on. Only a slight hint of tinned tangerines, red berries, (brambles and raspberries), a hard to define creamy background sweetness (pomegranate fruit jelly, perhaps?), a touch of red wine finished off with slight cask spices. Oh. and the hubba bubba gum is back. Have you ever eaten sweet fruity chewing gum before having a dram? That's what it tastes like to me. This is not an easy whisky, which is a very positive thing. It needs time to unfold its layers and never fully reveals all aspects. An intense conversation. Ah, now you're getting philosophical, Klaus, better move on to the medium long finish! Intense upon swallowing, but quickly mellowing down. Red fruits up front with slight citrus fruits, hubba bubba and the hard to define sweetness is back too! Slight spices towards the end.
Verdict:
Finally! The Laddie Ten is back! I reviewed one of the old batches a few years ago, if you'd like to compare notes. Doing so myself I noticed I scored the new release one point more. This is probably due to the increased complexity by using a higher proportion of wine cask (that's what my nose and palate say). Is this a new direction, Adam Hannett is going? If so, I like it – as long as the wine influence does not overtake, which it is not in this case. Well, I guess this one is going to split the fanbase – those who want a whisky just as the old ones were, and those, who appreciate the change. I personally appreciate the layers and the complexity this whisky provides.
To address another point, which will surely get discussed: Is it worth the 50-60% more than what you paid for the old batches? (street price about 60€ from what I can see). Well, whisky prices in general have gone up considerably in the meantime and, to be honest, I'd rather pay about 60€ for a well put together 10 year-old whisky than a dull 18yo. And, to be fair, you did not expect them to release it for less money than the NAS statements, like the "Classic Laddie", did you?
All things considered, this is a bottle I'd be happy to find under my Christmas tree – or give to a laddie loving friend.
Score: 87/100
(Nose: 85 Palate: 87 Finish: 87)
Thanks to Bruichladdich for the sample!