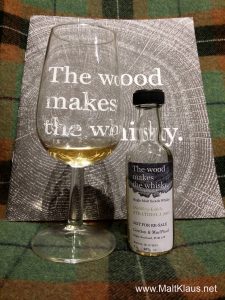 Dram data:
Distillery: Strathisla
Bottler: Gordon & Macphail
Distilled: 2005
Bottled: 16.12.2015
Age: ca. 10 years
Limitation: –
Casks: first fill sherry hogsheads
Alcohol: 43%
chill filtered(?) and uncoloured
Whiskybase link
That's only the second Strathisla I've reviewed for the blog – let's see if this independently bottled 10 yo from Gordon & MacPhail's "distillery labels" series has an edge over the official 12 yo!
Tasting notes:
Colour: dark straw (exactly what it says on the leaflet.. I didn't cheat, I swear!)
The nose starts off a wee bit shy and on the sweet side. First fill sherry hoggies? I wouldn't have guessed that from the first nose. Well, all right, dry, light sherry, perhaps, because that's what the nose says after a while. American oak, too. Vanilla, custard, faint traces of dry sherry, green apples and pears, apple peel, rhubarb and donut glazing with a splash of citrus in it. Faint traces of oak. Well… light and nice enough but not the "usual" heavily sherried style of Strathisla. On to the palate! now! Light on the arrival, but not weak, it does coat the mouth nicely despite the dryness, 43% ABV is just about right. Ah! There are the sherry influences – dry sherry, something between Oloroso and Manzanilla. Donut glazing sweetness with a splash of citrus is back, so are the apples (yellow ones, this time) and the pears – complete with peel. Do I detect some still spicy pickled ginger, a pinch of pepper and… cucumber water? Just like the nose – nice enough, above average, but it fails to make a big impression. The medium-long finish is well-rounded and dry. A hint of pepper paired with dry sherry traces and pickled ginger (including the sweetness) upon swallowing, before it dries down to reveal apples (with seeds) and oak notes towards the end.
Verdict:
If you're a fan of dry, lighter whiskies, this one might be for you. Certainly an above average whisky, nicely sippable and at about 40€ in a very obtainable price range. It is, however, a completely different style from the 12 year-old distillery bottling, which is heavily sherried, dark and fruity (but also a tad more watery at 40%). I keep wondering how this would've developed if it had been allowed a further 5-10 years in the casks…
Score: 79/100
(Nose: 79 Palate: 79 Finish: 78)
Thanks to Gordon & MacPhail for sending the sample over! Find out more about their "The wood makes the whisky" campaign here