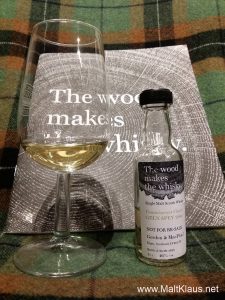 Dram data:
Distillery: Glen Spey
Bottler: Gordon & MacPhail
Distilled: 2004
Bottled: 26.09.2013
Age: ca. 9 years
Limitation: –
Casks: Refill bourbon barrels
Alcohol: 46%
unchillfiltered and uncoloured
Whiskybase link
Glen Spey. That's the Diageo distillery producing one of the lead malts for their J&B blends. How does it work on its own as a young malt?
Tasting notes:
Colour: straw
The nose starts off on the light side – Vanilla, orange and a malty sweetness with some alcohol on top. Fruits? Well, maybe a cheeky pear and a red apple with waxed skin have somehow made it into the barrel. Quality distillate for sure and very nice, but just a tad generic? Like a beefed-up (ABV-wise) young Glenlivet or Glenmorangie from the supermarket. Well, let's see what happens on the palate!Silky with light fruits and vanilla on the arrival. The alcohol takes quite some time to develop and shows itself with a bit of pepper. On the light side, but richer than the nose suggested – mouth-coating and even slightly oily. Red apples and pears with vanilla, apple skin, dried apricot and a light caramel touch on a malty, fruity-sweet base. No, we're not entering super-complex territory, but it's very enjoyable and quite a bit above aforementioned supermarket whiskies. The short to medium long finish is also quite silky with a bit of pepper and spice upon swallowing, before the fruit sweetness, malt and light fruits with vanilla take over.
Verdict:
An enjoyable, light Speysider without any flaws, but just a touch on the generic "Speyside profile" side, which doesn't have to be a disadvantage, depending on what you're looking for. I can't help but wonder how this would've developed with another ten years in the casks. But I'm sure G&M have a few sister casks tucked away where they'll do just that. If you like to do blending experiments, this would be a great base malt – use this whisky and experiment by adding wee amounts of other more expressive whiskies – peated, sherried or well-aged. I have a good drop left in the glass, I think I'll try just that, please do excuse me…
Score: 79/100
(Nose: 78 Palate: 80 Finish: 80)
Thanks to Gordon & MacPhail for sending the sample over! Find out more about their "The wood makes the whisky" campaign here