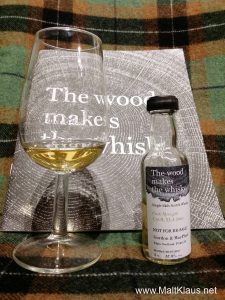 Dram data:
Distillery: Caol Ila
Bottler: Gordon & MacPhail
Distilled: 21.01.2005
Bottled: 20.07.2016
Age: 11 years
Limitation: –
Casks: 4 First-Fill Sherry Butts
Alcohol: 57,3%
unchillfiltered and uncoloured
Whiskybase link
Young Caol Ila. You can't go wrong with intense, young Caol Ila, right? Let's have a taste of this one, from Gordon&MacPhail's Cask Strength Collection.
Tasting notes:
Colour: light gold
The nose is very intense on the first nasal contact! Intense, phenolic peat smoke with alcohol, vanilla and white pepper/horseradish sharpness! Whoa! But I like it! Exactly why we love young, heavily peated whisky! Let's wait a few minutes… Ah ha! Ginger, peaty apple compote and something spicy… used mulled wine spices? To be honest, I would've guessed ex-bourbon maturation, but the leaflet says first-fill ex-Sherry butts. On the other hand… it could've been dry sherry, there is a dryness… With water: same general profile, but less alcohol! Let's see what the palate has to offer! Very intense on the arrival – massively mouth-watering with white pepper, ginger, intense phenolic peat smoke and quite a load of initial alcohol, which does mellow down quickly, though. After the first onslaught has passed, it gets quite sweet, chewy and oily – vanilla custard with peat-smoked marshmallows make an appearance. Let's add a drop of water. Or two. Or three. Ah, let's add a whole lot. Well, that did take the edge off quite a bit but no change in viscosity. In addition, I do get a hint of smoky machine oil now, paired with banana puree and caramelised ginger. The long finish is quite intense upon swallowing with strong peat smoke and noticeable alcohol (mellows down nicely with the addition of quite a bit of water!) and glides down the throat with a high viscosity, oily, with slight spices and a good touch of vanilla custard sweetness. Long-lasting sweetness and peat smoke.
Verdict:
Oh, yowza! What an intense peat monster! Quite spirit-driven, but with good cask influence and it does take quite a bit of water. Definitely not a beginner's dram – if necked, this could classify as "fire water", but if you like your young, high-octane Islay drams, you know what you're getting yourself into and you've got my blessing to go ahead and get this one. Now excuse me, I'm going for a refill!
Score: 86/100
(Nose: 85 Palate: 86 Finish: 86)
Thanks to Gordon & MacPhail for sending the sample over! Find out more about their "The wood makes the whisky" campaign here