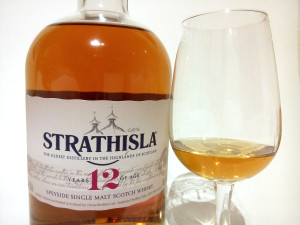 Dram data:
Distillery: Strathisla
Bottler: Official Bottling
Distilled: –
Bottled: 24.09.2013 – code LGS1373
Age: 12 years
Limitation: –
Price at the time of purchasing: 32€
Casks: –
Alcohol: 40%
Most likely chillfiltered due to the strength / no colouring added (?)
Whiskybase link
Tasting notes:
The colour is a reddish copper – I bought this in Germany so the addition of colourant should be noted (not to be found). The nose is fruity fresh (think summer fruit basket), I get fresh vanilla, lemon rind, lemon juice, orange oil, banana, fresh figs, hints of tropical fruits like mango and a slight maltiness. On the palate it is quite punchy, malty sweet, hints of coffee, milk chocolate, oriental spices. More on the dry side than fruity-sweet. The finish is very mellow and subtle, fading rather quickly leaving traces of malt and only the faintest idea of oak.
Verdict:
This used to be bottled at 43% and has recently been downgraded to a 40% option. While it is quite punchy, a few more % of alcohol might have brought a bit more fruity aromas – but I can't say for sure, having never tasted the older option. I quite like this malt – not the most complex of drams, but a spicy, fruity summer dram and at 32€ an affordable daily dram option. Now, Chivas, you've got some great potential here – use it! I'd love to see the 12 year old as the entry option in a range of single malts from this very beautiful distillery.
Score: 83/100