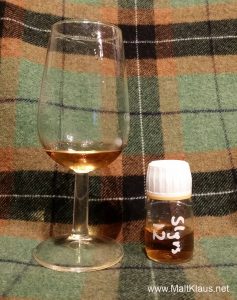 Dram data:
Distillery: Slyrs
Bottler: official bottling
Distilled: 2003*
Bottled: 2015*
Age: 12 years
Limitation: 2000 bottles
Casks: fresh american oak
Alcohol: 43%
unchillfiltered(?) and uncoloured
Whiskybase link
*no info on the sample bottle, it could either be the first or second batch
After tasting a less than stellar 3 yo whisky from the Bavarian distillery, I'm putting high hopes in this very expensive and collectable 12-year-old dram. Let's check it out!
Tasting notes:
Colour: amber
The nose starts out extremely rich! Different league than the aforementioned 3 yo bottling! Not your usual whisky, though, a distinctive style you could not mistake for a Scottish whisky (which is good, because why should you make whisky that tastes like Scotch in Bavaria?). Rich oak! I couldn't find any official info on it, but I'd be surprised if it was anything but virgin american white oak casks. This could almost be a well-aged high-malt mash bill, potstill bourbon! Charred oak, vanilla, tannins, ginger, cinnamon and cloves up front, with caramel and toffee sweetness, Werther's Original, Ricola cough lozenges and a whiff of a new Bavarian cowboy boot (Oh come on, you've made that one up!). Very oak-driven, but not too oaky. At the same time there's also a lightness and freshness on top – you can tell this is not old whisky, but a younger distillate from fresh casks. Let's check the palate!Hmmm… Very, very oak-driven on the arrival. Sappy, dry, almost tannic oak. Oh boy, you need to love your oak to like this one! When the first initial big burst fades, it leaves a much lighter, yet somewhat strange taste profile. Oak sap, tannins on diluted caramel syrup with propolis. Oh, I should take a picture of my face. Or, rather, I shouldn't. There is an apparent lack of substance/body apart from the oak aromas. Where's the distillate character? Where are other aromas than just the extreme oak profile? Ah, I hate to say it, but please be careful with that virgin oak, guys! There's a reason why they use much more robust mash bills in the US to fill their fresh barrels with. Oh, this started out so well on the nose. The medium-long finish is mellow and sweet upon swallowing with caramel – and loads of charred oak, of course, but much more palatable. More spices as well as pickled ginger and dark chocolate reveal themselves as time goes on.
Verdict:
Oh, err, yeah, what to make of it. I absolutely loved the nose and the finish is very nice as well, but the palate… It is perfectly fine if you drink it quickly, but if you keep it in your mouth to get the whole experience, it gets southwards quickly. Too much too active fresh oak, if you ask me – there can be so much as too much of a good thing. Re-racking into refill wood after a few years would probably have worked wonders. On the other hand, if you love extremely oak-driven spirits – go ahead. If you want to shell out several hundred Euros at auction, that is, as the previous editions are sold out.
I'll keep trying other Slyrs to find one I really like – maybe the third time's the charm?
Score: 73/100
(Nose: 86 Palate: 72 Finish: 80)
Thanks to malt mate Keith for sharing the sample!