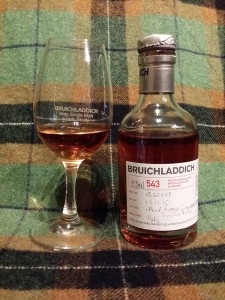 Dram data:
Distillery: Bruichladdich
Bottler: Original bottling
Distilled: 18.06.2003
Bottled: 04.11.2015
Age: 12 years
Limitation: ca. 250 bottles
Casks: Single Port Hogshead 15/297/543
Alcohol: 60,1%
Unchillfiltered; uncoloured
Tasting notes:
Colour: red cherry juice
The nose opens with surprisingly little alcohol. It's there, but not 60% ABV there – no idea what they've done here but I like it! Toasted oak with slight cask smoke (that's quercus robur talking loudly!), brambles, cassis, cherries, liquorice, roasted walnuts and assorted spices (again, that's the oak talking). A mixture of fruits and spices – more on the dry than the sweet side. Don't try to hunt for distillery character in that one, the cask – previously used for "real" Port wine maturation – was really strong. The palate packs quite a punch but it's manageable. An initial onslaught of ripe red fruits – again, cassis, brambles, cherries, plums, quite a bit sweeter than the nose but not cloyingly sweet as the cask spices (cinnamon, allspice, cloves, nutmeg) kick in as well, paired with liqorice, milk chocolate.  roasted nuts and a meaty note – beef jerky anyone? Do I want to add water? Not really, no, this is fine the way it is. The long finish has an initial alcoholic blast, but quite manageable and not too much of it. Upon swallowing there's the intense red-fruitiness again, immediately met with spicy cask notes As the finish fades a dry sweetness (red fruits with kernels) and slightly oaky and meaty notes emerge.
Verdict:
Wham. In your face. That's what happens when you put good spirit into a fantastic cask – a REAL cask, none of this modern quick-dried, pressure-infused stuff. European oak used for maturing Port meets Bruichladdich – and takes over, but in a good way. Not too sweet, not too oaky, not too spicy and very drinkable at cask strength of over 60% ABV. Unsurprisingly, this was the star of the #LaddieMP3 tasting for many – including myself. Available now (only) on the Bruichladdich webshop, but good whisky seems to carry a good price tag as well – 90 pounds.
Score: 90/100
(Nose: 89 Palate: 91 Finish: 90)
Thanks to Bruichladdich for providing the tasting pack!