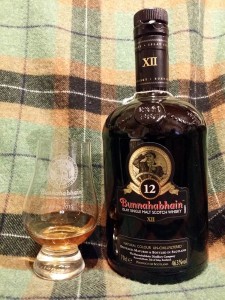 Dram data:
Distillery: Bunnahabhain
Bottler: Original bottling
Distilled: –
Bottled: ca. 2015 (lot P035644L5)
Age: 12 years
Limitation: –
Casks: –
Alcohol: 46,3%
Unchillfiltered; uncoloured
Whiskybase link
Tasting notes:
Colour: red-gold
The nose opens with a light alcoholic note mixed with sea salt and brine and a slight smoky note with darker undertones. The smoke isn't peat smoke, (from what I was told standard Bunnahabhain is unpeated these days), but a mixture of cask spices and wine cask note which give the illusion of fragrant smoke. Give it 15-30 minutes in the glass to unlock the full aromas and a wee dollop of water isn't a bad idea either! Sticky toffee pudding, roasted nuts, christmas cake, cloves, cinnamon, dried dates, dried figs, dried plums, PX sherry, crystallised ginger and oranges, dark chocolate and chocolat-ey Indian coffee beans. The palate is mouth-coating, oily, rich and a tad on the dry side. Slightly nippy on the arrival with brine and salted peanuts, crystallised ginger and oranges, salted toffee, a diluted puree of mixed dark dry fruits, sugar-reduced sticky toffee pudding (wait, what?), PX sherry and a pinch of spices. The long finish is sweet and rich upon swallowing, gliding down very slowly getting drier and gaining spices.
Verdict:
The Bunnahabain 12-year-old is one of those odd drams which had to grow on me first. I once tried a miniature and I had it at a tasting at the distillery, but when drinking it quickly and rushed you miss out on most of the experience. Pour yourself a dram, add a drop of water and let it sit for half an hour and you'll be rewarded by a richly flavourd malt experience. One of the best entry-level offerings on the market – with the winning words "natural colour – unchillfiltered" imprinted on the label. Add to that a good price of about 40€ and you've got a winner!
Score: 87/100
(Nose: 87 Palate: 87 Finish: 86)