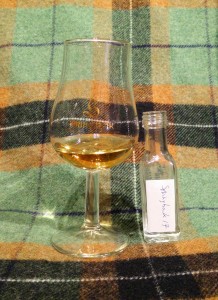 Dram data:
Distillery: Springbank
Bottler: Original Bottling
Distilled: 04.1997
Bottled: 01.2015
Age: 17
Limitation: 9120 bottles
Casks: Sherry wood (first fill butts, refill butts, hogsheads)
Alcohol: 52.3%
Unchillfiltered, natural colour
Whiskybase link
Tasting notes:
Colour: gold
The nose starts off with light and fragrant Springbank peat smoke, the signature salt note on a layer of noticeable cask spices with aromatic dark fruits in the background. Think of a puree of figs, dates, sweet dried apricots and plums.

There's also freshly roasted coffee, cocoa powder and chewy toffee. All the elements are in harmony with each other with the oak influence dominating slightly over the sweet elements, the smoke and the salt. A drop of water brings out the sweetness a bit more. The palate is more on the sweet side than the nose, at least initially. Rich, creamy, oily, mouth-watering dark fruit puree with an initial slight alcoholic bite. A slight bitterness (wood tannins) and noticeable cask spices lead me to believe there's a lot of European oak involved here. Orange peel, dark chocolate and marzipan. Salt? Check. Light, fragrant (wood?)smoke? Check. The finish is initially a bit alcoholic, oily, to make its way down into the belly on the spicy, salty, dry side with the sweetness being pushed into the background. It fades and fades and fades for a long time.
Verdict:
I like this one a lot. While not in-your-face kicking and screaming, this is a very fine European oak matured dram with a lot of cask spices. Not overly sweet (no tricks used to increase sweet sherry residue in the casks prior to filling) yet still lots of dark fruits complementing the Springbank style and the signature saltiness is also there. Perfectly drinkable neat, even at well over 50% ABV, but a dash of water doesn't hurt.
Score: 88/100
(Nose: 88 palate: 88 Finish: 86)
Interested in a second opinion? Head over to The Whiskyphiles