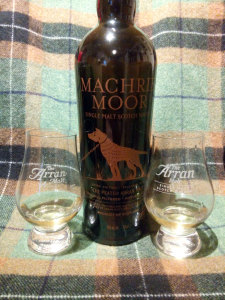 Dram data:
Distillery: Arran
Bottler: Original Bottling
Distilled: –
Bottled: 2012
Age: NAS
Limitation: 12.000 bottles
Price at the time of purchasing: 40€
Casks: –
Alcohol: 46%
Unchillfiltered, uncoloured
Whiskybase link
Tasting notes:
Colour: Pale straw.
The nose opens with a lightly peated, fruity fresh first whiff. Very delicate and gentle. The peat is definitely mainland peat – not phenolic and heavy but well-integrated and subtle, yet noticeable. Beneath the peat fresh, summery fruits dominate. Ripe apples and pears, unripe brambles, gooseberries, peaches, honey melon and caramelised orange peel on a light vanilla pudding sweetened with honey. A noticeable amount of malt in the background but no discernible cask influence. I doubt there was an ex-sherry cask involved which isn't a bad thing at all and works quite well. The palate is dominated by a honey-sweet sensation on the first sip until the alcohol takes over. Let's add a drop of water – this malt is still a bit young and wild and needs to be tamed. The sweetness remains, let's call it slightly peat-smoked honey melon with a touch of vanilla. Yes, that's it. Quite chewy and mouth-coating. Quaffable, but not the most complex of palates. The finish is in line with the experience so far. honey sweet, slightly peaty. Oily and the sweetness lingers for quite some time.
Verdict:
Arran started distilling peated malt in 2004. This third edition of Machrie Moor – named after stone circles on the Isle of Arran – was bottled in 2012, so the peated malt in the vatting can't be older than seven years, maybe eight years tops. This is in line with my findings regarding smell and taste. A sweet, fresh, young and wild, lightly peated dram. It will be quite interesting to see how this line of bottlings progresses – the fifth edition and a cask strength version have just been released at the time of writing. Give it a few more years in the casks and it will get even better – but don't get me wrong, this is already a very quaffable and enjoyable malt from a wonderful, small, independent distillery.
Score: 84/100