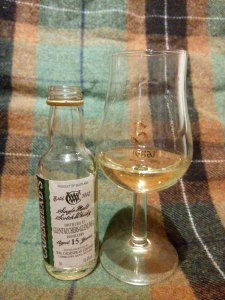 Dram data:
Distillery: Glentauchers
Bottler: Cadenhead's
Distilled: 1998
Bottled: 02.2014
Age: 15 years
Limitation: 282 bottles
Price at the time of purchasing: – (Miniature)
Casks: Bourbon Hogshead
Alcohol: 55.3%
Unchillfiltered, uncoloured
Whiskybase link
Tasting notes:
Colour: Pale straw.
The nose starts off very delicately. You've really got to spend your time with this dram, no instant "in your face" aromas. A whiff of alcohol but not as much as you'd expect at 55% ABV. Fresh, green fruits. Green apple, gooseberries, fresh blackcurrant juice, peach, melon, caramelized banana chips, banana peel, sawdust. Quite fresh like young white wine (but no wine aromas!). Some vanilla and honey, but not on the sweet side either. A dash of water doesn't do much. The palate offers much more alcohol initially, beneath that there's the same fresh, light impression carrying over from the nose. Adding a wee bit of water tames the alcohol as expected and makes the dram more accessible (and more economical, ha!). More fresh, green fruits, apples, tangerine, ginger, more gooseberries, some faint caramel, diluted honey, a slightly salty bitterness in the background. I haven't looked it up at the time of writing but I'm guessing this came from a refill bourbon hogshead (possibly third fill), not much cask influence going on here. The finish is short and precise, quite a bit sweeter appearance than on the palate, floral, definitely salt and more (grassy?) bitterness with some sawdust.
Verdict:
I usually do not categorize malts this way but this, to me, is a summer dram. Imagine a hot summer's eve outside in the garden and you're looking for a fresh dram instead of a white wine – this would be a great match. It is very light, very fragile and delicate (though it does take quite a bit of water). Definitely not for those looking for big, bold, in your face drams.
Score: 82/100
The sample for tasting was kindly provided by Cadenhead's Whisky Market Austria. Cheers!