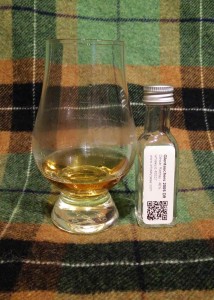 Dram data:
Distillery: Glentauchers
Bottler: Dewar Rattray
Distilled: 16.09.2005
Bottled: 17.09.2013
Age: 8
Limitation: 403
Cask: Sherry Puncheon 900389
Alcohol: 46%
unchillfiltered and uncoloured
Whiskybase link
Tasting notes:
Colour: gold
The nose opens with a very distinctive sweetness of honey and malt. Creamy toffee, milk chocolate, caramelised almonds and custard with a flowery (lilac, violets), powdery perfume note on top. A very sweet and powdery nose, not much fruitiness – just a hint of old, brown banana perhaps (but in a good way). Well, maybe more like banana chips? The palate is quite a bit "darker" in style with notes of roasted nuts, roasted malt (including the slight bitterness of roasted malt, coming from the oak tannins), toffee, milk chocolate, chocolate ice cream, banana chips. At the same time there's still a freshness and (slightly metallic) youth fighting with the darker elements. The finish is medium long to long and mellow with notes of malt, dark chocolate and oak tannins.
Verdict:
This young Glentauchers is completely driven by maturation in a (very active) Sherry Puncheon, a type of cask, sized between a Hogshead and a Butt, you don't see very often. Lots of dark aromas from the wood and the previous contents but at 8 years of age the youthfulness of the distillate still comes through as well. A very quaffable, enjoyable and "dark" drinking experience on the one hand, on the other I can't help but wonder what a few more years in the cask might have done… we'll never know.
Score: 84/100
(Nose: 86 Palate: 83 Finish: 83)