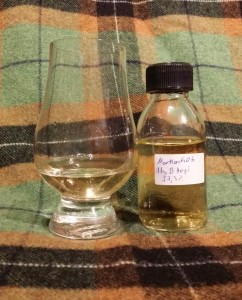 Dram data:
Distillery: Mortlach
Bottler: Cadenhead's
Distilled: 2003
Bottled: 2015
Age: 11 years
Limitation: 558 bottles
Casks: bourbon hogshead(s)
Alcohol: 57,3%
unchillfiltered; natural colour
Whiskybase link
Tasting notes:
Colour: light straw
The nose starts out on a light note with malt, vanilla, apricots and a hint of meatiness (or is that just autosuggestion?). Pretty strong on the alcohol at 57% ABV, this needs some water to allow further investigation. The alcohol is gone, the dram remains light. An at least 2nd fill hoggie I'd guess. Malt sweetness, custard, orange zest, apricot dumplings, gooseberries, a hint of signature Mortlach meat, hay. Light and shy like an 11 year-old girl. Yeah, I know… moving on. The palate (diluted) starts off prickly on the tongue – I quite like that – with an interesting balance between sweet and green notes – very peculiar. Malty sweetness with apricot juice and gooseberries meets green chiles, red pepper, ginger, grapefruit bits and freshly mown grass. Oh, and is that a bready / yeasty note in the background? The medium long finish starts off with quite an alcoholic, citrus punch, malty sweetness appearing soon thereafter as it dries down to the same slightly bready/yeasty note which was already noticeable on the palate.
Verdict:
Hmmm… a rather young Mortlach from a vatting of at least 2nd fill casks (hogsheads) bottled for Cadenhead's international small batch release. Light and fresh and it works quite well in this hot summer we're currently experiencing here in central Europe. Not a bad dram at all, but I can't help but wonder if it wouldn't be better off still sitting in the cask instead of that wee sample bottle…
Score: 79/100
(Nose: 81 Palate: 79 Finish: 79)
The sample was kindly provided by Cadenhead's Whisky Market Austria. Cheers!