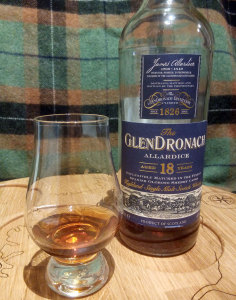 Dram data:
Distillery: Glendronach
Bottler: Original Bottling
Distilled: –
Bottled: 27.11.2012 (LF11329)
Age: 18
Limitation: –
Price at the time of purchasing: 68€
Casks: –
Alcohol: 46%
Unchillfiltered, uncoloured
Whiskybase link
Tasting notes:
Colour: deep cherry red.
The nose on this dram speaks volumes. Sherry, sherry, sherry. Am I drinking Oloroso or is this a malt? Pure Oloroso goodness. If you don't like in-your-face sherried drams, stop reading right here. Very well integrated alcohol, even if you bury your nose deep in the glass. Distillery character? Nah, completely lost. I get lots and lots of dark fruits. Figs, dates, dried plums, raisins, sweetened with honey. Dark milk chocolate, caramel pudding with a cinnamon stick on top (weird, I know…), apple wine. Not so sure on whether I detect tannins from the wood in the background or if that's the Sherry. It doesn't nose old, it's still fresh and kicking yet at the same time incredibly complex – just about right for 18 years. I can't stop nosing it, it's so intriguing. The palate is a perfect continuation of the impression the nose left behind. The alcohol is a bit more noticeable (no wonder at 46% ABV). The first impression is, again, a dark fruit sweetness, balanced out a few seconds later by a pleasant bitterness paired with Oloroso sherry notes. Very mouth-watering, you can keep it in your mouth for a very long time exploring the different facets. I get more figs, dates, dried plums, dried cherries, dried apricots, dark chocolate, fudge. The finish starts off with a sweet bang, coating everything, mellowing down to a very long, fruity yet slightly (pleasantly) bitter end.
Verdict:
As you can see from the picture, the bottle is rather empty by the time of reviewing this malt. It took me some time to get used to it, it's definitely the most intense, sherried dram I've ever tasted. Purely first-fill Spanish oak Oloroso butts, I guess. With a nice splash of sherry remaining in the wood upon filling, I suppose. While the dram is completely devoid of distillery character I find it works very well. It offers great complexity, a nice balance of sweetness and pleasant bitterness and it is ever so gentle. Plus, it's offered at a fairly attractive price point at a time when you can pay much more for young, undermatured, no-age-statement whisky. James Allardice was the founder of Glendronach and this bottle rightfully bears his name. Today Glendronach is owned by the BenRiach Distillery Company and is therefore part of the minority of independently owned distilleries in Scotland. Their malts aren't as widely available as some of the big brands, but they're worth being sought out, with their 18-year-old being no exception.
Score: 89/100