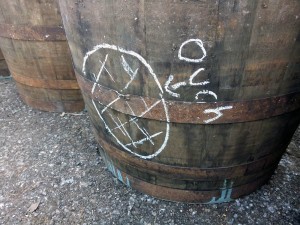 I love browsing the different whisky retailers' websites, discovering all the new releases and shiny new bottles on offer. Or should I say "I loved"? Browsing the online shops nowadays leaves me mostly indifferent, sometimes saddened, and with less excitement every single time.
Here's why, this is a selection of recently released bottles at a German online retailer:
Bowmore Devil's Cask III: 198€
Laphroaig 32yo – 1248€
Undisclosed 5yo Glenglassaugh single cask: 98,90€
Ben Nevis 15yo single cask: 124,50€
Miltonduff 20y single cask: 198€
Tamdhu 25yo single cask: 258€
Kininvie 23yo half bottle: 118,50€
Balvenie NAS Tun 1509: 328€
Midleton Single cask 1999: 258€
Bladnoch 20yo independent vatting of several casks at 46%: 128,50€
AnCnoc NAS Peatlands: 69,90€
(this list could go on and on and on – this is a purely random selection of bottlings that just happened to catch my eye going through the list)
The asking prices nowadays, even for (very) young whiskies and whiskies with fancy names without any age statement, are really hard to swallow at times. I find myself with less and less potential purchase candidates every month, I feel I'm being charged more and more and more and more every single month. And that's even with the €/GBP exchange rate getting more favourable for two months now after being particularly bad for a few months during spring and summer.
Yes, these are prices from just one single retailer, but the same is true for all the other shops as prices are mostly industry-driven. I could've looked at any other site – prices are very compareable and transparent these days thanks to the Internet. The only reason I am singularly looking at this one retailer here is them listing old catalogues for download, which enables comparing current offerings to prices of yesteryear in due course.*
Well, of course, I know all about the current market and the driving forces, in fact I've written about this here and here. The short answer: We've more or less depleted the stocks of old, long-matured whisky far past the rate of replenishment. That's a given, that's undisputed, that's a sad fact (but it was tasty while it lasted).
However, this post is not really about the reasons behind the pricing – this has been discussed at length and in detail. I am also not looking at the quality of the whiskies at all – some of the ones in above list might just be absolutely stunning drams. It is also NOT to pick out and on different brands and distilleries as the selection is purely random.
It IS about the status quo and the effects: Whisky prices seem to be at an all-time high. Case in point? Let's look at prices at the same store from just five years ago (2010):
Bowmore "Cask" Sherry 1l: 42,90€
Glenglassaugh 1986/2009: 62,90€
Laphroaig 30yo: 298€
Ben Nevis 15yo single cask: 39,90/57,90€
Bladnoch 19 at 55%: 59,90€
Balvenie 30y: 348€
An Cnoc 16yo: 47,90 (couldn't find a NAS expression back then…)
Obviously I was unable to find direct matches (or any matches) for some of the bottles and the comparisons aren't exact, but the pattern is very obvious: Prices for older whisky, special releases and single casks have gone up, up, up at an alarming rate!
So, what about the good old, trusted standard bottlings? How did they fare? Let's take a look at the prices 2010 vs 2015 (in €):
Lagavulin 16: 44,90 / 49,90
Laphroaig 10: 26,99 / 29,99
Glenlivet 12: 25,99 / 33,90 (discontinued)
Glenfarclas 15: 39,90 / 49,90
Dalwhinnie 15: 29,99 / 33,99
Balvenie 12 Doublewood: 29,99 / 39,90
Clynelish 14: 35,90 / 38,90
Strathisla 12: 38,90 / 36,90 (reduced bottling strength)
Arran 10: 29,90 / 31,90
Bunnahabhain 12: 32,90 / 43,90 (new design, higher strength, unchillfiltered, uncoloured)
Glenfiddich 12 (1l): 29,90 / 34,90
Highland Park 12: 29,99 / 33,99
Taking a look at these prices it's clear most companies tried to keep the price increases for the entry-level bottlings at a minimum. Especially the big players are probably taking a hit in profits here as energy prices, labor and other costs (as well as the € exchange rates) went up quite a bit these past five years. The independent distilleries were unable to keep up. (Arran is an exception as they now have far more stock at hand being such a young distillery). In the end it's clearly a case of the standard releases keeping their price while the special releases, the single cask releases, many of the independently bottled drams are the ones increasing drastically in price.
For me, personally, there are clear consequences: These days I'm finding less whiskies I'm willing to pay the asking price for than even a year ago. I won't bend over backwards for whisky. There are still companies, distilleries and bottlers with reasonable prices and great products, but you have to look harder and farther these days to find fantastic drams at punter-compatible prices. When I do see such a bottle you can be sure I'll buy it, those are the ones I support with my hard-earned cash! And I'm not a penny pincher, I'm prepared to pay more for "the good stuff" – but all within reason! I'm also not mad and I'm not ranting at the companies – if they don't want me to be able to purchase a bottle, I simply look elsewhere – it's as simple as that.
On a broader scope prices these days can be an entry barrier for those looking to get into quality whisky once they look past the entry-level bottlings. Case in point: I used to buy sub-50€ heavily peated malts for a mate who trusts my judgment. These days I am more or less unable to provide him with new whiskies he hasn't tried yet that fit his budget. I don't think he has bought a bottle for half a year now.
The industry needs to be on the lookout not to scare off future generation of whisky drinkers. I know that's easy to say as a commenter from the cheap seats but I guess every whisky lover can tell stories about overpriced bottles collecting dust on the shelves while the bang-for-the-buck drams can be sold out at times. My opinion: Better sold out at times and tightly allocated than priced beyond reach.
Whisky, once a commodity, is increasingly becoming a luxury, branded, styled and polished product. Thank god some still seem to have both wellies firmly on the ground!
What's your take on this? How do you think about the current pricing trends, particularly in Scotch Whisky? Have your buying habits changed? Let me know your comments below!
PS: If you're prepared to weep like a wee kid, Oliver Klimek has compared prices between 2002 and 2012 in this blog post
*Usually I always name my sources but in this case I deliberately decided against disclosing it publicly – the current general price levels are not this shop's fault and solely naming them with a somewhat negative topic would be unfair. In fact I commend them for releasing past price lists and catalogues publicly on the internet – if you're interested you will find them by using Google (in German) searching for old whisky catalogues and price lists or just shoot me a comment and I'll send you a link privately.