Introduction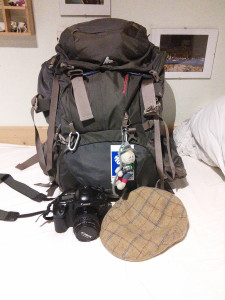 I love Scotland. I love the countryside, the culture, nature, the people who are similar to my own folk, and – of course – the whisky. When I was up there last year with one of my two brothers, Johannes, I immediately knew I would be coming back. As it so happened the wee one of us three brothers, Peter, graduated from secondary school this year so we arranged a "little" trip in celebration of the occasion. Well, this "little" trip in July 2014 would in the course of nearly three weeks lead us from London to Inverness and back, visiting 15,5 distilleries along the way – that's over 10% of all working distilleries in Scotland… By "we" I of course mean us three brothers – the wee one, Peter, the middle one, Johannes and me, Klaus, as the leader of the pack.
It was a backpacking trip, thus we traveled lightly – at least on our way up, filling our luggage with whisky along the way. Obviously. We stayed in hostels (and one b&b), sometimes preparing our own meals and, with the exception of Islay, where we rented a car, relied on trains and buses for the majority of our travel. I prefer public transport whenever I can and Interrail is a great and cheap way to travel all across Europe.
Day 1: All across Europe
Day one, Monday, the 14th of July, was a long day of traveling. We left Passau in the south of Germany – the nearest big railway station to our home – in the morning and went straight up to Frankfurt, where we arrived with a bit of a delay as it is the norm when traveling by train in Germany. In fact on our whole journey we only had three delayed trains, two of them in Germany and the third one was in Scotland when going up to Inverness due to sheep on the tracks (a just excuse I think). Anyway, I digress. From Frankfurt it was straight to Brussels where we boarded the Eurostar to London. Arrived in London at 7p.m. without a problem and immediately checked into our hostel, Clink78. That evening we went to an Italian restaurant nearby, the Mediterraneo – quite good pasta, but a tad on the pricier side. After the long (but fun – much more fun than flying!) day it was time to tuck in and prepare ourselves for a full day in London.
Day 2: London – within feet of the Queen!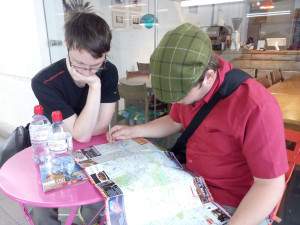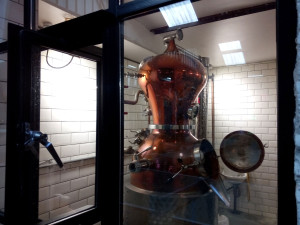 Since we didn't fancy two days of travel back to back we stayed in London for a whole day to take a look at the city and some sights. Well, we really just looked at the sights and didn't enter any of the tourist traps. I really don't fancy waiting 100 metres in line for Westminster Abbey to shell out nearly 50 quid at the entrance for three adults – I guess I'm far too Scottish to waste that kind of money. Especially on a sunny and warm summer day with a whole city to explore! I really don't want to bore you with the details of where and when we went – only one coincidence is worthy of a mention anyway: We wanted to cross the street at Buckingham palace when Bobbies wouldn't let us. I was just about to start cursing because of the holdup when a black car, accompanied by policecars and -motorbikes, drove by – with the Queen waving at us. Talking about being in the right place at the right time…
In the afternoon we decided to pay the London Distillery Company a visit – when in town… Well… if you plan to go there: Visit them on a weekend, they don't do any tours and won't let you in on a weekday. We only could take a peek in through the window and take in the lovely smell of freshly distilled gin as well as marvel at the tiiiiiiny still they've got there. This really is a microdistillery, some farmers have bigger stills in Austria to make their fruit brandy…
After that trip being a bust we decided to do some more whisky-related stuff and paid the Cadenhead's shop and tasting room a visit. Their scheduled tasting in the evening was already fully booked (tough luck – call ahead next time…) but I found myself two "cask ends" bottles – a Glen Spey 1995 and a 21 year old Trinidad rum. Already bought some whisky and wasn't even in Scotland yet… a good start indeed 😉
While wandering through the streets of London we came across a pub with a sign "Best Pub in London" – The Queen's head. A very bold statement which we had to verify that evening for dinner – we just had to as we had seen the real Queen's head that day. Terrible pun, I know :). Even though I managed to f**k up the order (entirely my fault…) and we ended up with three starters instead of main dishes we had a very enjoyable time and had a hard time choosing from the extensive selection of beers and drams. Especially memorable was the "Holy hoppin' hell", a double IPA by teh Weird Beard Breing Co. A fun evening indeed and the pub comes recommended. We did return there at the end of our trip.
Day 3: Up to the holy land of whisky – going to Glasgow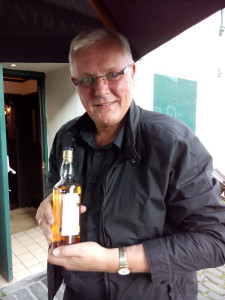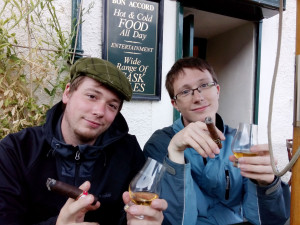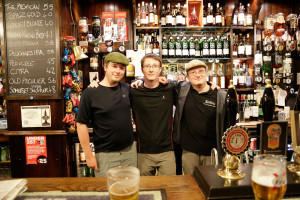 Day three saw the three of us get up early – but not early enough to catch the train we originally intended to (ahem…) up to Glasgow. You know you've arrived in Scotland when after a stop near the English/Scottish border the accent of the train manager changes – it made us all grin 🙂 A recommended place to stay in Glasgow is the Eurohostel – cheap and good. And near the city's centre. As we arrived early and it wasn't time to check in yet we made a little detour and paid Andy and Smiley Pete from Inverarity One To One a visit. A very nice and well-stocked drinks shop – although currently well hidden with a construction site above. We nearly missed the entrance 😉 They've got a great selection of malts, congnacs, wines and so on, even cigars. I ended up buying a bottle of Longrow 14yo Burgundy wood from Springbank's wood expression series. And two cigars – which will make an appearance soon enough.
The rest of the afternoon was spent exploring the city until finally we made our way to the world-famous Bon Accord pub. We had no idea what we were in for that evening when we stepped through these doors. We had a great evening meal there and since the weather was fine we went outside to smoke a cigar and have a pint and a dram. What followed all started with these two tweets: One Two. Paul, the pub's owner, noticed the tweets on his mobile, grabbed a bottle of whisky as well as three glasses and came outside. We couldn't believe his generosity – it was a 1982 G&M "Rare Old" St. Magdalene, bottled 2013. Great chap to talk to – he really made our evening! Oh, and a very good dram too. Hey, I even have tasting notes for you 😉
St. Magdalene 1982, Gordon & MacPhail "Rare Old", bottled 2013 tasting notes:
Nose: Very mellow and sweet. dried fruits, apricots, figs, raisins, dried orange juice, orange rind, maltiness in the background. Sweet vanilla pudding, some oak spices, liquorice sweets. Very sweet, fruity, juicy.
Taste: Aged leather on a fruit cake, very sweet, mouth-watering, liquorice, orange juice
Finish: Sweet and throat coating. Oak spiciness but sweet, more orange juice. Medium long
Score: 93
After finishing our cigars and malts in the garden we went back inside where the weekly pub quiz was in full progress. We somehow managed to grab a table with comfy chairs and ordered a round of cider (we don't get cider here in Austria, it's virtually unknown…). On the table next to us was a group of bikers we already had a good chat with in the garden and chatting commenced inside. Suddenly the guys started to collect money. We didn't pay much attention to it – until one of the guys took the money to the bar and returned with a tray filled with malts for them and us. A second free dram on this evening thanks to these fine gentlemen – thanks very much! It was a Strathspey whisky according to the guys – there's no distillery by that name, but a fine Speysider it was. Sorry – I didn't write down any tasting notes 😉
The evening ended with a customary picture of the three of us behind the bar and being gifted three Bon Accord branded Glencairn glasses. Wow… a night to remember! I honestly can't remember meeting so many nice and generous people in a bar or restaurant here in Austria. A very, very great third day to start our adventure through the magical country of Scotland!
Next up: Our visit to Auchentoshan distillery and heading over to Arran. Click to read!