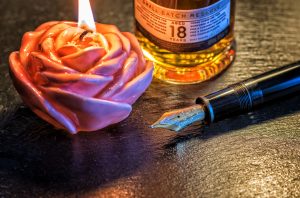 I can't lie. I've been a bit silent these past weeks and months. As the whisky world is buzzing with more and more distilleries, more and more releases and more and more messaging put out there, there is less and less "for me" out there that truly excites me. In the course of this year, I have found less and less to buy and spending will have decreased considerably for the second year running. The more hyped up the whisky world gets, the farther it distances itself from me – or the other way round. With the closure of the Cadenhead's shop in Salzburg at the end of the year, I'm losing my main source for affordable, interesting bottles, which "doesn't help" either.
Anyway, this should only serve as an introduction. No, this will not be a blog post about whisky prices, I've written about that before. Today I want to talk about whisky, luxury and aspiration due to two things that happened just today: A discussion about whisky magazines and their content/target group in a Facebook group and listening to a podcast about luxury. That made things click for me and prompted me to write a few lines…
Let's take a step back. We all probably started with a cheap blend or a cheap bourbon, possibly mixed into a drink. Initially, stepping up in the whisky game feels like extreme progress. That first – love it or hate it – sip of a heavily peated whisky, that first dram of a heavily sherried dram. It's a world of exploration. Moving from 10€ a bottle to 30€ a bottle is expensive, yet in most cases very rewarding. We get hooked, looking for more, looking for rare, attending events, tastings, educating our noses and palates.
There comes a point when that 10yo bottle of Laphroaig, which was a beast when we took our first sip, seems watery to us a few years in when we've got the entire range of Octomores on the shelf and it seems natural. The higher we climb the whisky ladder, the higher the expectations get – and more and more often, we are and get disappointed – the law of diminishing return kicks in. The more (money) you pour in, the less the increase in quality seems to be. We aren't happy with what we've got – even though it is leagues above where we started. We do not look back at where we came from, we look ahead – at the next big thing, at the next decade in the age of the whisky stated and still, there is never enough. We live under the illusion, that if we buy this next whisky up in the range, it will be better and we will be satisfied – but we aren't. As soon as that bottle sits there at home – if it even gets opened at all, we start looking at the next one, and the next, and the next.
The whisky companies have realized that and they are exploiting it to extents unimaginable just a mere few years ago. You can't really fault them in a climate where money seems to be neverending and whisky is in demand. Never before have we seen so extravagantly packaged whiskies, never before have we seen myriads of collectable series, each and everyone tempting us to get them all, to aspire to, making what we have in our glasses feel mediocre compared to what's still out there. The independent bottler Gordon & MacPhail's has even appointed a "Director of Prestige" for the ultra-high-end luxury markets – even more proof of where it is all headed.
There seems to be no way of escape than going up, up, up – or is there?
What I've become to realize is, I'm incredibly lucky to have tasted the amount of whiskies I have been able to, like just recently a vertical of Highland Park up to the 40yo, which is a "dream dram" many wish to be able to afford a single measure of one day. When you've reached the top levels, the summit of the mountain, that's when realization strikes you: This is the top, this is the end, this is where the aspiration game ends. The biggest disappointments in whisky for me have not been the "meh" cheap drams, it was the outrageously expensive "meh" drams – and let me tell you, there's a lot of them out there. The main thing you need to realize is: With whisky, you mainly pay for rarity and only to a lesser extent for quality. Whisky, even single malt, is cheap to produce and within limits a 70.000€ bottle of whisky cost about the same to make than a 50€ bottle of whisky. And thus the 50€ bottle can be a much better dram. You pay for rarity, you pay for image, you pay for bragging rights, you pay for exclusivity, you pay for luxury. You do not pay for quality, at least not nearly as much as for all these other things.
That's what I've realized over the course of the past two years, that's where the journey led me. I no longer care if I can get that limited edition bottle or not or if I get to taste the latest big/hot thing or not. These days, if I happen upon a whisky that's excellent for the asking price, I will gladly pick it up – and that can also be a more expensive whisky, if price and quality are in sync. If not, then I won't pick it up. I'm taking it easy and slow these days – at my pace. I've got nothing to prove to anyone.
I hope you too can end the aspiration game, finding that peace of mind and replacing the feeling of restlessness and worry about the "next bottle" with a feeling of relaxation and enjoyment, a perfectly fine dram in your hand. After all, relaxation and enjoyment is what it is all about and it stems from just a few grains of malted barley, water and yeast. Three very simple ingredients which are out there in abundance!