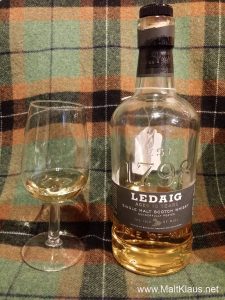 Dram data:
Distillery: Tobermory
Bottler: original bottling
Distilled: –
Bottled: ca. 2015
Age: 10 years
Limitation: –
Casks: –
Alcohol: 46,2%
unchillfiltered; uncoloured
Whiskybase link
I've reviewed quite a lot of "special" whiskies lately – it's time to look at the "daily dram" category again. This one fits the bill nicely, affordable, and presented the way we like it (no chill filtration, no fake colour). Oh, and it's been called "the new Ardbeg" by some. Let's verify that claim!

Tasting notes:
Colour: green barley
The nose is just how I like a relatively young, heavily peated dram to be! Peat bonfire smoke (is that even a thing?) up front, like a South coast Islay, with phenols, dirty oil rags and a hint of iodine. Well, no wonder, since the malt is supplied from the Port Ellen maltings on Islay. It is, however, not only just smoke and a whole lot of nothing – there's more going on! Fresh ginger, pepper and eucalyptus provide a welcome punch, after which sweeter notes start to appear. There are hints of fudge, vanilla, sugar-coated shortbread and a touch of flowering herbs. Vibrant, kicking, young, yet with a good balance, I can see why people compare it to Ardbeg 10.
The palate is actually quite gentle on the arrival, oily and mouth-coating, with a shortbread-y sweetness. It doesn't take long for the phenolic, dirty peat smoke, the ginger and the pepper to kick in – but not overwhelmingly so. I love the dirty oil-rag and earth-floor background notes, so many peated whiskies are too sterile and polished with just a bit of bonfire smoke these days, not that one. The herbs I encountered on the nose are almost gone, replaced by burning flower petals, but the fudge is still there. Not too laden with complexity, but that's perfectly fine for a 10 yo, heavily peated whisky. The long finish has a boatload of pepper and ginger kick upon swallowing, before once again the oily, dirty, phenolic peat smoke kicks in. Fudge and shortbread sweet notes follow afterwards and coexist with the smoky notes for a long time.
Verdict:
Mmmmhhh… an oily, dirty, heavy-hitting phenolic dram – not from Islay but produced not too far away on Mull from malt produced on Islay. If I had to look for a fault, I would say it could be a tad too sweet – swap a few fresh ex-bourbon casks for a few more refill ones, maybe? Selling for between 40 and 50€ it is on the upper end for a 10-year-old whisky, but I'd still call it a daily dram.
So, is it the next Ardbeg? Well, I'm not sure about these claims and I don't take them too seriously – it certainly is cheaper and far more accessible than the malts from the famous Islay distillery and at least this batch is better than some of the lesser batches of Ardbeg 10. Still, they are separate products and that's a good thing – the world of Scotch would be a poorer one if malts were interchangeable!
Score: 87/100
(Nose: 87 Palate: 86 Finish: 87)